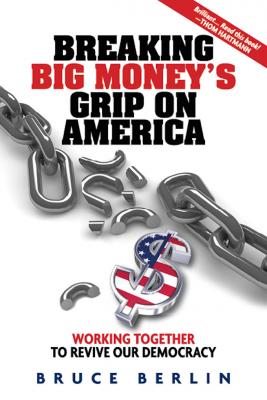 Breaking Big Money's Grip on America (Paperback)
Working Together to Revive Our Democracy
Our Time Books, 9780996623209, 142pp.
Publication Date: February 1, 2016
* Individual store prices may vary.
Description
This book is an urgent call to all Americans to focus on a critical issue: huge sums of money unjustly influencing US elections and public policy. Some people see the United States as a plutocracy run by and for the very rich. Breaking Big Money's Grip on America provides convincing evidence to support this view and explores how a nationwide Democracy Movement can overcome Big Money's control and convert our government into one that serves the needs of the American people. It also demonstrates why breaking Big Money's grip is critical to solving other crucial issues like gun violence and income inequality. Whether you are a conservative, moderate, liberal, or progressive, your participation is vital for fixing our broken political system.
Praise For Breaking Big Money's Grip on America: Working Together to Revive Our Democracy…
"A brilliant analysis of where we are and where we need to go. Read this book!" —Thom Hartmann, author and talk radio show host

"Berlin makes clear the only force capable of challenging Big Money's powerful hegemony is a diverse, nonpartisan, grassroots movement for democracy based on a politics of human dignity and equality."
—Randy Kehler, former national coordinator
Nuclear Weapons Freeze Campaign

"A highly readable, compelling analysis of America's current political crises."
—Craig Barnes, award-winning author and member of Common Cause National Board

"I highly recommend this very insightful book to everyone, especially young people who are dismayed with our politics."
—David Cortez, Taos, New Mexico community organizer and filmmaker


or
Not Currently Available for Direct Purchase