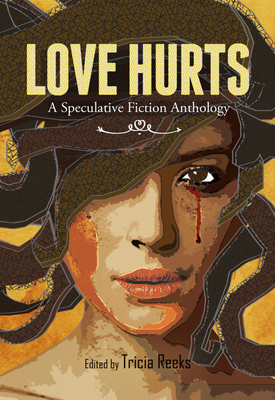 Love Hurts
A Speculative Fiction Anthology
Paperback

* Individual store prices may vary.
Description
Twenty-six brilliant speculative fiction stories about love, and the pain that so often accompanies it. Enjoy a cornucopia of imaginative tales, wondrous settings, and unforgettable characters—such as the disillusioned time traveler who visits ancient Japan to experience a "Moment of Zen" the young woman from planet Kiruna who can only communicate in song when the moonlet Saarakka is up, and the sorcerer who loses their happiness in a bet with a demon.
Rich and wonderfully diverse, this collection spans many speculative fiction genres: from SciFi to Dystopian, from Fantasy to Magical Realism, from Steampunk to Superhero, from Horror to Weird. Sometimes funny, occasionally happy, frequently gut-wrenching—these stories will take your heart on a wild emotional ride.
Stories by Jeff VanderMeer, Hugh Howey, Karin Tidbeck, Charlie Jane Anders, Holly Phillips, Aliette de Bodard, A. Merc Rustad, Steve Simpson, Mel Paisley, J. D. Brink, Matt Leivers, Michael Milne, Michal Wojcik, Carla Dash, Terry Durbin, Michelle Ann King, Kyle Richardson, Leah Brown, G. Scott Huggins, Dan Micklethwaite, Victoria Zelvin, Shannon Phillips, Keith Frady, Jody Sollazzo, David Stevens, and Morgen Knight.
Praise For Love Hurts: A Speculative Fiction Anthology…
"'I've always had a taste for dark,' says Reeks in her introduction, and she goes on to prove it with a top-shelf selection of tales, 20 of which are original to this book. . . A well-organized, wide-ranging collection of consistently strong genre stories." — Kirkus Reviews

"For fans of weird and beautifully written genre fiction, LOVE HURTS is a work that delivers 26 distinct emotional roller coaster rides, each as different from one another as they are from any other story you've probably ever read. As full of creativity as it is of heartbreak, it's a book that truly is full of surprises." — IndieReader
Meerkat Press, 9780996626224, 260pp.
Publication Date: December 1, 2015
About the Author
Hugh Howey is the author of the acclaimed post-apocalyptic novel Wool, which became a sudden success in 2011. Originally self-published as a series of novelettes, the Wool omnibus has been a #1 bestselling book on Amazon.com and is a New York Times and USA Today bestseller. The book was also optioned for film by Ridley Scott, and is now available in print from major publishers all over the world. Hugh's other books include Shift, Dust, Sand, The Shell Collector, the Molly Fyde series, The Hurricane, Half Way Home, The Plagiarist, and I, Zombie. Hugh lives on a boat that he hopes to sail around the world. Website:www.HughHowey.com
Charlie Jane Anders is the author of All the Birds in the Sky, a novel published in 2016 by Tor Books. She is the editor in chief of io9.com and the organizer of the Writers with Drinks reading series. Her stories have appeared in Asimov's Science Fiction, The Magazine of Fantasy & Science Fiction, Tor.com, Lightspeed, Tin House, ZYZZYVA, and several anthologies. Her novelette "Six Months, Three Days" won a Hugo award. Website: CharlieJane.com
Jeff VanderMeer's most recent fiction is the NYT-bestselling Southern Reach trilogy (Annihilation, Authority, and Acceptance), all released in 2014 by Farrar, Straus and Giroux. The series has been acquired by publishers in 23 other countries. Paramount Pictures/Scott Rudin Productions have acquired the movie rights. His nonfiction has appeared in the New York Times, the Guardian, the Washington Post, the Atlantic.com, and the Los Angeles Times. A three-time World Fantasy Award winner and 14-time nominee, VanderMeer has edited or coedited many iconic fiction anthologies, taught at the Yale Writers' Conference, the Miami International Book Fair, lectured at MIT and the Library of Congress, and serves as the co-director of Shared Worlds, a unique teen SF/fantasy writing camp located at Wofford College. He lives in Tallahassee, Florida, with his wife, the noted editor Ann VanderMeer. Website: www.JeffVanderMeer.com
Tricia Reeks lives in the bear-infested mountains of Asheville, North Carolina with her mountaineer husband and her two ferocious French Bulldogs. She is the founder of Meerkat Press and the editor of Love Hurts: A Speculative Fiction Anthology.