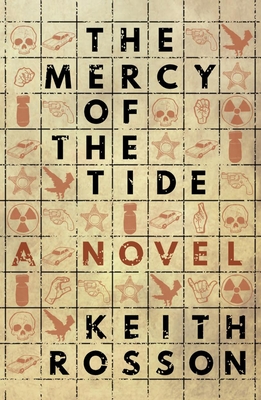 The Mercy of the Tide
Paperback

* Individual store prices may vary.
Other Editions of This Title:
Digital Audiobook (7/5/2020)
Description
Riptide, Oregon, 1983. A sleepy coastal town, where crime usually consists of underage drinking down at a Wolf Point bonfire. But then strange things start happening: a human skeleton is unearthed in a local park and mutilated animals begin appearing, seemingly sacrificed, on the town's beaches. The Mercy of the Tide follows four people drawn irrevocably together by a recent tragedy as they do their best to reclaim their lives - leading them all to a discovery that will change them and their town forever. At the heart of the story are Sam Finster, a senior in high school mourning the death of his mother, and his sister Trina, a nine-year-old deaf girl who denies her grief by dreaming of a nuclear apocalypse as Cold War tensions rise. Meanwhile, Sheriff Dave Dobbs and Deputy Nick Hayslip must try to put their own sorrows aside to figure out who, or what, is wreaking havoc on their once-idyllic town. Keith Rosson paints outside the typical genre lines with his brilliant debut novel. It is a gorgeously written book that merges the sly wonder of magical realism and alternate history with the depth and characterization of literary fiction.
- NPR Books | Jason Heller - "Rosson is a talent to be watched, and Riptide is one of the most immersive fictional settings in recent memory."
- Publisher's Weekly (starred review) - "A striking novel"
- Foreword Reviews (4/4 hearts) - "An exquisitely honed, beautifully written novel."
Praise For The Mercy of the Tide…
"A dark thrill ride." — Kyle Minor, author of PRAYING DRUNK

"Keith Rosson's fearless and genre-bending debut novel, The Mercy of the Tide, is harrowing, haunting, and hypnotic. This is nightmare material of the first order, at once exhilarating and profoundly disturbing. It'll leave you breathless. Riptide, Oregon, is a forbidding landscape of shattered lives and broken dreams, and it's a scarier place than the world you're living in. Pour yourself a bracing drink, settle into your comfy chair. Once you begin this book, you won't be going anywhere. What talent, what nerve, what an astonishing first novel." — John Dufresne, author of I DON'T LIKE WHERE THIS IS GOING

"Blending horror and alternate history, this striking first novel takes its time familiarizing readers with the small seacoast town of Riptide, Ore. It's late 1983, and the U.S. and Russia seem to be sliding toward nuclear Armageddon. At least that's what nine-year-old Trina Finster believes, focusing on politics partly to distract herself from sorrow over her mother's death. Her brother, Sam, and her father are also struggling with personal grief, as are town sheriff Dave Dobbs and excruciatingly haunted deputy Nick Hayslip. When they start finding the mutilated corpses of animals, they fear that a vicious shape-shifting monster out of local Native American legend, the tah-kee-na-the, has reappeared to feed on sorrow and serve as a harbinger of more awful events to come. Considering the international situation described in the novel, readers are left uncertain whether any of the characters will survive in the long run. What is clear, though, is that Rosson has a real gift for vivid description and for creating anguished characters who deserve a faint glimmer of hope." — PUBLISHERS WEEKLY, STARRED REVIEW

"An astonishing debut soaked with suspense. Rosson brings his characters to life with surefooted precision. The town of Riptide, Oregon, may be cursed with rain, but it will be scorched into your memory. Outlandishly excellent." — Jim Ruland, author of FOREST OF FORTUNE

"This story of a community of wounded souls takes some gutsy turns off the main roads to stake its own unforgettable territory. With grit and empathy, Rosson tells a story of heartache and grief unlike any I've ever read." — James Boice, author of THE SHOOTING and MVP

". . . Highly recommended. Feels like: Dead Zone meets Cycle of the Werewolf - Smells like: Portlandia meets Stranger Things" —  Shahab Zargari, The Verbicide Magazine

"The Mercy of the Tide is intense and beautiful, epically sad yet restorative like all great novels are. Affirmation in every sense of the term. Highly Recommended." — Matthew Hart, Razorcake Magazine

". . . [N]othing is what it seems in Riptide, both due to the sources of violence and to the magical realism that Rosson uses with a magically deft touch." — Bethanne Patrick, Literary Hub

"I recommend this novel to anyone who is looking for a unique mystery." — Jessica Duffield, Paperback Paris

"Blending fantasy, horror, and alt-history, this slow-burning debut is grounded by characters whose personal tragedies anchor the supernatural elements." — Barnes & Noble Blog
Meerkat Press, 9780996626248, 296pp.
Publication Date: February 21, 2017
About the Author
Keith Rosson lives in Portland, Oregon, and is the author of the novels The Mercy of the Tide and Smoke City. His short fiction has appeared in Cream City Review, PANK, December, the Nervous Breakdown, and more. A fierce advocate of public libraries and non-ironic adulation of the cassette tape, he can be found at keithrosson.com.
or
Not Currently Available for Direct Purchase