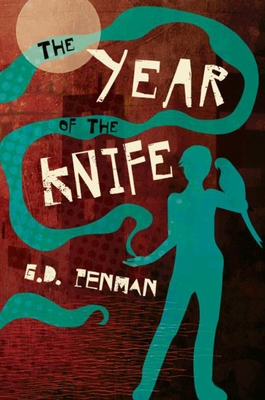 The Year of the Knife
Paperback

* Individual store prices may vary.
Description
Agent "Sully" Sullivan is one of the top cops in the Imperial Bureau of Investigation. A veteran witch of the British Empire who isn't afraid to use her magical skills to crack a case. But Sully might need more than a good education and raw power to stop the string of grisly murders that have been springing up across the American Colonies. Every one of them marked by the same chilling calling card, a warning in the form of a legion of voices screaming out through the killers' mouths: "It IS tHe YEAr oF the KNife."
Sully's investigation will drag her away from the comforts of home in New Amsterdam, the beautiful but useless hyacinth macaw that used to be her boss, and the loving arms of her undead girlfriend, in a thrilling race against time, demonic forces and a shadowy conspiracy that will do anything to keep its hold on power and ensure that Sully takes their secrets to her grave, as soon as possible. 
G.D. Penman's imaginative The Year of the Knife is a fun, fast-paced urban fantasy mystery with an engaging set of characters, most notably Agent Sully of the Imperial Bureau of Investigation.
Praise For The Year of the Knife…
"All of the characters are completely engaging, and while The Year of the Knife has plenty of magical gore and gruesome mystery, it has has quite a bit of humor as well. Sully is quick with her snappy answers and retorts, and she has an abundance of bravado. The entire story is gripping and full of non-stop action! The Year of the Knife has plenty of plot twists, but hold on to your seat as the story unfolds into its dramatic climax. You don't want to miss it!" — Ruthie Jones, Reading by Moonlight

"The Year of the Knife is a compelling tale of magic and monsters and a hold-onto-your-seat kind of story. The book isn't for the faint of heart and each descriptive scenario is well thought out. Full of magic and comical moments, The Year of the Knife is fun and compelling read with a very surprise twist at the climatic ending." — Happy Mom Blogger

"Crazy demons, dark magic, and a mysterious conspiracy, oh my!  The Year of the Knife is one crazy book, and you should probably read it with the lights on." — I Love Books Club

"It was a delightful read to discover layer after layer of mystery unfolding. I was really impressed with what happened and ... the reasoning behind all the murders." — The Mystery Corner

"I thoroughly enjoyed seeing Sully through to the end of this fantastic urban fantasy." — BrizzleLass Books

(4 stars) "If you are into magic and all the supernatural stuff with demons, vampires, skin walkers and more, I highly recommend you pick this one up and you [will] not be disappointed." — Lin's Perspective Book Blog

(4 stars) "Penman has a knack for speculative fiction, especially involving magic, necromancy and, oddly enough, colonialism." — TRL Reviews

(4 stars) "I really enjoyed this book. A LOT. It starts from that stunning first line, grabs you and does not let you go. I could not put it down." — Married Book Nerds

(5 stars) "The story is fast paced. There are no dull moments, non-stop action and writing is really good. Story grabs you from the first moment and you can't put the book down till the very last pages." — Ani's Book Blog

"Fans of urban fantasy, stories featuring LGBT characters, or even just those looking for a fun and energetic read are highly encouraged to give it a look." — Indiepicks Magazine
Meerkat Press, 9780996626286, 236pp.
Publication Date: November 28, 2017
About the Author
G.D. Penman writes fantasy fiction. He lives in Scotland with his partner and children, some of whom are human. By day he is a writer for hire, by night he stares at the ceiling and makes up stories. He is a firm believer in the axiom that any story is made better by dragons. His beard has won an award. He is a time traveller, but only forward, and only slowly. Once upon a time he was the editor of Forgotten Worlds Magazine and Amphetamine Press. His short fiction can be found in Phantasmacore and Three Lobed Burning Eye. His literary criticism can be found online at BookWitty. If you have ever read a story with queer people and Kaiju, it was probably his. 
or
Not Currently Available for Direct Purchase