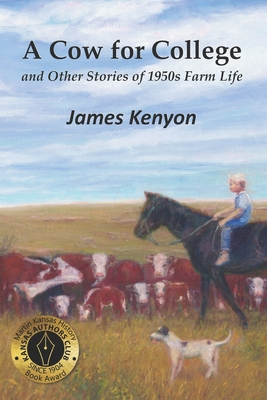 A Cow for College
and Other Stories of 1950s Farm Life
Paperback

* Individual store prices may vary.
Description
James Kenyon, a born storyteller, writes an account of growing up in 1950s rural America that will make a reader laugh, smile, and occasionally shed a tear. As a young farm boy raised on the high plans of western Kansas, James shares memories of learning to care for cattle, ride (and fall from) the family horse, nurse a piglet back to health, and drive a tractor. Whether selling eggs from the back of his red wagon to the women in the nearest town of Bogue (population then approximately 300) or saving the family cow from death by bloat, readers will enjoy these glimpses of a farm boys life, a look back on simpler a time in America, post-depression, post-war. Winner of the 2018 Martin Kansas History Book Award by the Kansas Authors Club.
Meadowlark, 9780996680141, 166pp.
Publication Date: September 8, 2017
About the Author
James Kenyon was born and raised on a third generation family grain and livestock farm. At the age of four, propped up on his knees to see over the steering wheel, he guided the family pickup truck as his father forked out feed for cattle. He drove the tractor solo by the age of seven in the hay field. James grew up caring for cattle, pigs, chickens, and horses near the small town of Bogue, Kansas, population 300. The birds, cats, dogs, frogs, and possums were all part of his experiences with nature. Today, James is a veterinarian in a 35-year, mixed animal practice in a beautiful Iowa college town. He is a veterinarian for the Alaska Iditarod Dog Sled Race and a 24-year member of the school board, as well as its current president. He leads numerous community organizations including Rotary, church, library, museums, and historical society. He chaired the Iowa Veterinary Medical Association and State Veterinary Board of Examiners. He was named Iowa Veterinarian of the Year. James is married to his college sweetheart from Kansas City. They have blended the farm and city in their life together. They have three children, four grandchildren, and numerous pets.