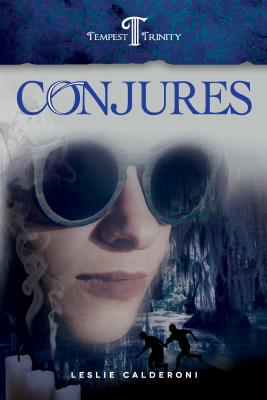 Conjures
Book Two of the Tempest Trinity Trilogy
Paperback

* Individual store prices may vary.
Description
In book two of the Tempest Trinity series, Emerald and her twin sisters find themselves drawn to the magic and beauty of New Orleans and the Bayou, still in search of an heirloom book and the answer to a decades-old family mystery.
"I'm really excited to get Charms onto the shelves...With its themes of Girl Power and family bonds, it's a fun book for a wide age range." Anna Augason, Santa Cruz Library (Staff Pick)
The excitement and danger of the French Quarter on Halloween night introduces Emerald, Mia, and Terra (and Cheddar ) to D Sol Marchand, a frightening nemesis with a deep connection to their past. While D Sol fights to gain possession of the secret book, luring a gang of teenagers under the power of her conjures to help her, the girls seek to repair their bond with Eva, hoping to drive away the dangers and devastating secrets that D Sol holds. How far will the Laurent brothers go to get what they want, Colin bargaining with D Sol , and Ryan, now even more torn between his brother and Emerald's fiercely independent nature? To save the integrity of their family, and their friends, the Tempest sisters must dig deeper to learn how to control their powers over physics.
Conjures is the second book in Leslie Calderoni's Tempest Trinity, a smart new Young Adult trilogy packed with mystery, girl power, and the magic of science.
Leslie Calderoni, 9780996704625, 198pp.
Publication Date: October 3, 2016
About the Author
Leslie shares a home in the Santa Cruz mountains with her three dogs, one cat, and a hamster named Jack White. A self-confessed Nerd Girl, she was over the moon to be able to edit much of her most recent book in an office across HWY 101 from NASA's Ames Research Center in Mountain View, CA.