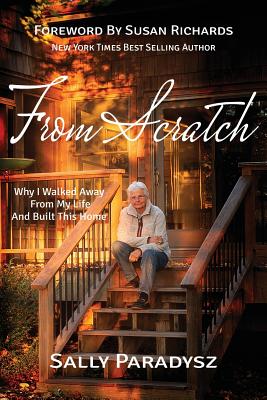 From Scratch
Why I Walked Away From My Life and Built This Home
Paperback

* Individual store prices may vary.
Description
When sixty-year-old Sally Paradysz decides to break the mold, she breaks the law as well.
After thirty-five years in a tension-filled marriage to a domineering man, Sal has finally had enough. Still reeling from the after-effects of a violent rape, she realizes a need to reconnect with her true self--a self she has too long kept under wraps. With her new partner Melanie by her side, Sal purchases three perfect acres in rural Bucks County, Pennsylvania, and sets out to build her home.
But construction means dealing with men. Lots of them. And money. More than she has. As she pushes beyond the limits of her comfort zone, and her resources dwindle, Sal gives up her rented farmhouse and decides to live outside of the law. She packs up the essentials, including her two Maine Coon cats, and moves off the grid into a tiny, uninsulated tool shed on her land.
Set squarely between the world of nature and the world of men, Sal discovers the blessings each bring to her life. She undertakes challenges, faces fears, and lives an adventure beyond her wildest dreams.
Deer Trail Publishing, 9780996707008, 286pp.
Publication Date: October 29, 2015