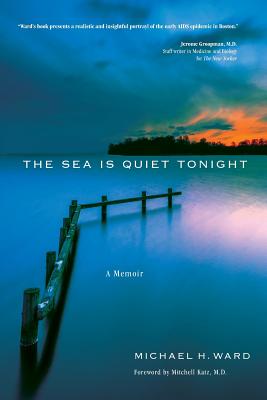 The Sea Is Quiet Tonight
A Memoir
Paperback

* Individual store prices may vary.
Description
"Michael Ward's book presents a realistic and insightful portrayal of the early AIDS epidemic in Boston. I was especially moved by the vivid descriptions of love and loss expressed at Mark's memorial service." -Jerome Groopman, MD, staff writer in medicine and biology for The New Yorker


"Over three decades ago, just when we were all learning about AIDS, Michael Ward and his lover experienced firsthand the uncertainty, fear, and heartbreak of the disease. It is essential that we not forget these early days of the AIDS crisis. Thank goodness Michael is here to remind us of the human cost of those days in this moving, deeply personal, and beautifully written book." -Ken Harvey, author of A Passionate Engagement and If You Were With Me Everything Would Be All Right


"The Sea Is Quiet Tonight is about so much more than life and death. It's a story about how relationships survive when death is close. It's a story about community. I felt as if I knew all of the characters personally. A real stand-out is the characterization of Aunt Pearl, and both sets of parents are given good and honest space on the page. Michael Ward and Mark Halberstadt are present- visually, emotionally, realistically. While no relationship is without its difficulties and challenges, this wonderful memoir presents a searingly honest portrayal of life and love, of decency and strong ties. It asks all the right questions within the frame of a fraught relationship. The writing is tight and clean, and the prose is never maudlin. Michael Ward has written from the heart about a wonderful, terrible time in his life, and in so doing he's honored Mark Halberstadt's memory." -Catherine Parnell, Senior Associate Editor, Consequence magazine


"The Sea Is Quiet Tonight is beautifully written, a deeply affecting story." -Helene Atwan, Director, Beacon Press


"Sometimes what matters most is the story under the story. Maybe you think you know the story of the AIDS crisis and its devastations in this country. But inside that story are the kind of guiding, soul-level stories we need so much now: about how to be a true friend, how love takes apart our fondest dreams of what's supposed to happen, and ultimately how to grow up as human beings. Michael Ward's The Sea Is Quiet Tonight gives us both the outside and the inside stories. I read it in two sittings, riveted, nourished by the honest, sad, funny, beautiful truth of what unfolded for the author and his beloved and their friends and family. I won't forget this book." -Sherry Ruth Anderson, author of Ripening Time: Inside Stories for Aging with Grace


"Profoundly evocative of a time when hilarity and high camp gave way to unimaginable horror. Enter into these pages, if you dare. For those of us who lived to tell the story, Michael Ward calls forth the memory of the beauty, the dread, the terror, and the extraordinary ways we cared for one another." -Rev. Kim K. Crawford Harvie, Senior Minister, Arlington Street Church (UUA), Boston

Querelle Press, 9780996710336, 204pp.
Publication Date: November 1, 2016