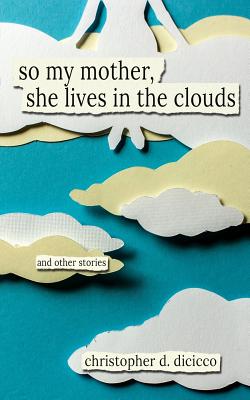 So My Mother, She Lives in the Clouds
Paperback

* Individual store prices may vary.
Description
With over 50 stories published in the last two years and nominations for the Pushcart Prize and Best of the Net, "short story master" DiCicco weaves his tales into an auspicious debut collection. Through his minimalist style, DiCicco explores the ties that define us – the relationships between fathers and sons, husbands and wives, and men and their own fear. He navigates the human condition with a fresh voice, pulling you through each story with a sense of urgency and excitement while expertly balancing the reader's sense of delight and despair.

Featuring 11 never-before-seen stories, So My Mother, She Lives in the Clouds propels DiCicco into the spotlight as the next major voice in indie fiction.
Praise For So My Mother, She Lives in the Clouds…
"There's something joyous about the stories in So My Mother, She Lives in the Clouds, even with so much regret, fear, and grief throughout. There's something free in the urgency of Christopher D. DiCicco's imaginative prose, presented in great variety here—a vulnerable and honest innocence rooted in the complex doubt of our lives."
- Paul Elwork, author of The Girl Who Would Speak for the Dead

"DiCicco acknowledges the reader as an equal in these stories–there isn't any hand holding or sugary explanations. The cuts are deep, the rawness absolute, and each page pushes the reader to another sad, beautiful, unimaginable image. DiCicco's voice lingered long after I finished the collection, and I am left wanting more in the best way."
- Matthew L. Kabik, Editor in Chief at Third Point Press

"…sweet…strange…feels like a late-night conversation, relationship-sticky and dreamily half-whispered."
- Leesa Cross-Smith, author of Every Kiss A War and editor of WhiskeyPaper

"It is a pleasure to inhabit Chris DiCicco's imagination each time I pick up his book. His stories display both the huge range of his creativity, and the refinement of his prose. While each story shows the reader a new and fantastic view of parents, children, and family life, each sentence portrays the author's ideas with remarkable clarity. DiCicco is an author with true storytelling talent."
- Joshua Isard, Director of Arcadia University's MFA Program in Creative Writing

"Cloud princesses, a lake monster uncle, a Neanderthal drug addict; Christopher DiCicco's deft metaphors reach for the fantastic but are nonetheless grounded in the growing pains of life. Like butterflies that have failed to take flight, the stories in this wonderful debut collection, told with both heart and imagination, spin the broken and the beautiful together to create a world we can all recognize."
- Sequoia Nagamatsu, author of Where We Go When All We Were Is Gone and Managing Editor at Psychopomp Magazine

"Christopher D. Diccico stories explore what keeps us grounded—what tethers us to one another—and what happens when those ties fray or are unexpectedly severed. But don't expect traditional narratives of love and tragedy here. DiCicco weaves "a whole mess of possibilities so extreme and weird" into these tales that "…the realization of getting stuck in a daily loop…doesn't seem so odd, so hard to believe." In the end we are reminded that in moving along our own orbits we attract and hold close those very things that are central to our survival."
- Jenn Monroe, author of In Anticipation of Grief and Something More Like Love and Editor-in-Chief at Extract(s)

"The characters in Christopher DiCicco's collection are at once tangible yet ephemeral: a roller-coaster obsessed co-worker who might right now be watching birds turn to butterflies; a boy who doesn't want a dog—he wants to be a dog. In So My Mother, She Lives in the Clouds, the reader is invited first into a compelling contemporary setting, but is quickly directed to a world of transcendent possibility."
- Patricia Colleen Murphy, Founding Editor of Superstition Review

"SO MY MOTHER, SHE LIVES IN THE CLOUDS has a special heaviness that lasts. DiCicco's prose is packed with wit and charm, and he delightfully dives into the dark corners of humanity and navigates them like a true explorer. These powerful stories are meant to be read aloud."
- Crissy Van Meter, co-founder of Five Quarterly

- "There is a lonesome magic to the characters inhabiting So My Mother, She Lives in the Clouds, their longings so red-hot they manifest in fantastic, haunting ways. Each story is a bright sun, and each builds on the others, and the result is fire, and they burn and they sear, and they command: watch and just try to avert your eyes from all this light."
- Justin Lawrence Daugherty, Managing Editor at Sundog Lit
Hypertrophic Press, 9780996746502, 234pp.
Publication Date: October 13, 2015
or
Not Currently Available for Direct Purchase