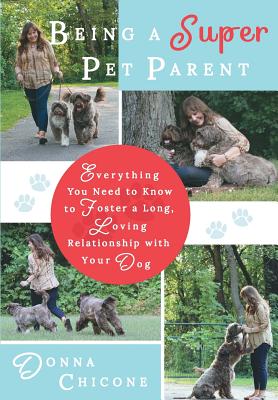 Being a Super Pet Parent (Paperback)
Everything You Need to Know to Foster a Long, Loving Relationship with Your Dog
Dancing Paws Press, 9780996810814, 202pp.
Publication Date: November 15, 2015
* Individual store prices may vary.
Description
Making the decision to become a pet parent is one nobody should take lightly. Bringing a sentient, social being into a family requires much thought and commitment, with a full understanding of the responsibility involved. But many people jump into adopting a dog for emotional reasons and without the necessary knowledge of the specific dog's needs, often with negative outcomes for both the human and the dog.
Being a Super Pet Parent is the antidote to this scenario -- the comprehensive guidebook that addresses every pertinent topic a canine mom or dad needs to explore to give their dog the wonderful life they deserve. Whether you're considering bringing a dog into your home, are a new parent, or have had a dog for years, you will find immense value in the author's well-researched, experienced, loving tips and advice on all aspects of pet parenting including:
* Exploring your motivation for wanting a dog in your life
- The pathway to adoption or breeder
- Building a caring, respectful connection
- The commitment of time, money, and responsibility
- Proper nutrition, exercise, and grooming
- The importance of socialization and love-based training
- Transitioning from pet parent to SUPER pet parent
For anyone who wishes to foster a heart-centered, lifelong relationship with a dog where joy and love is given and received by all, Being a Super Pet Parent provides the roadmap for nurturing many years of faithful companionship and cherished memories with your beloved dog.
Praise For Being a Super Pet Parent: Everything You Need to Know to Foster a Long, Loving Relationship with Your Dog…
"If you have a dog, or are considering bringing a dog into your home, Being a Super Pet Parent will transform your approach and bring you and your dog a lifetime of rich rewards. Donna's storytelling and personal sharing of not only her experiences, but her passion for elevating our relationships with our canine companions, is a game-changer for individuals and families who want a life filled with the love of dog."
—Nancy Herbst, M.Ed.; certified Healing Touch practitioner; certified spiritual director; loving pet parent

"Donna Chicone is a dog person's best friend! She has a passion for dogs and embraces the joy of the human-animal bond. With incredible energy, she works to educate others on all aspects of not just having dogs, but of sharing our lives with them. She brings together people from all areas of the dog world — from dog shows and breeders to trainers and veterinarians — to offer complete information for the serious dog lover."
—Kate An Hunter, D.V.M., Carver Lake Veterinary Center

"Having been a pet parent in my adult life — first for fourteen years and then for fifteen — I found reassurance that I gave the best I knew at the time.  Since selecting another puppy and reading your book, I feel like there is so much more to being a pet parent than I originally thought. I have always loved dogs, but I did not view their needs in the same way as I do now."
—Pat Wall, BSN, RN; 30-year pet parent

"Wait a second while I hug and kiss my dog, wipe away a few tears, and take my dog for a little adventure in nature so she can explore, smell, and run — that is the impact this book had on me … not to mention I could not put it down! The book is very informative, easy to follow and read, makes a great deal of sense, follows sound logic, and is nicely sequential. This will be my gift of the season for all my dog-loving friends!"
—Kristin Muyskens, M.A., L.P.; psychologist

"Donna Chicone's Being a Super Pet Parent is a fun and informative read that will leave you reflecting on how you can be the best pet parent you can be! Whether you are a new or experienced pet parent, Donna shares many 'hot tips' on a variety of topics you can try with your dog immediately. Ike, Eliza, and Kirby (three Portuguese water dogs) love Donna's ideas too!" 
—Christine Peper, PhD