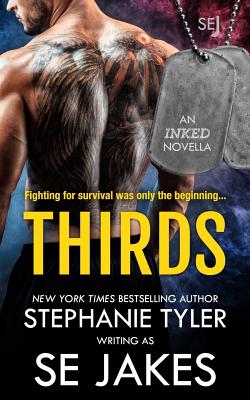 Thirds
An Inked Novella #2
Paperback

* Individual store prices may vary.
Description
For Aleks, the third time wasn't the charm...and fighting for survival was only the beginning... Aleks is a tattoo artist at Inked. He's also a man with a troubled history and a future bent on vengeance. But his plans for revenge are derailed when he meets a man with ties to his past. A man who also holds a promise of the future. Brogan is dangerous for Aleks in more ways than one. He's former military, a successful businessman and a strong hand in the bedroom-everything Aleks wants, under the worst possible circumstances. It's up to Aleks to figure out what-and who-is worth fighting for.
Stephanie Tyler, LLC, 9780996812962, 158pp.
Publication Date: September 28, 2016
About the Author
SE Jakes is the pen name for New York Times Bestselling author Stephanie Tyler, and half the co-write team of Sydney Croft. First published in 2011, SE Jakes has quickly risen to be a bestselling author in the LGBT romance genre, as well as a fan favorite. Her books are frequently highlighted in USA Today and her books have been reviewed by Library Journal and RT Books Magazine. She's been nominated by several sites for Favorite M/M author of 2013 Tyler-2-big-2and finaling in the Goodreads MM Romance Readers Choice Awards in 7 categories. She's a hybrid author writes for Riptide Publishing and Samhain Publishing, and she Indie publishes as well. Stephanie Tyler is the New York Times Bestselling author of romance novels spanning multiple genres, including Romantic Suspense, New Adult, Paranormal Romance and Contemporary Romance. She's a hybrid author who writes for multiple publishers, including Random House, NAL/Penguin, Harlequin, Carina Press, Mammoth Books, Belle Books and Samhain Publishing, as well as Riptide (under SE Jakes) and Indie publishing. Her books have been translated into half a dozen languages, nominated for an RT Reader's choice award and garnered top picks from RT Magazine as well as starred reviews from Publishers Weekly. She's a frequent workshop presenter and has contributed stories for anthologies for charities, including SEAL of My Dreams, which has raised over 150K for the Veterans Medical Association.