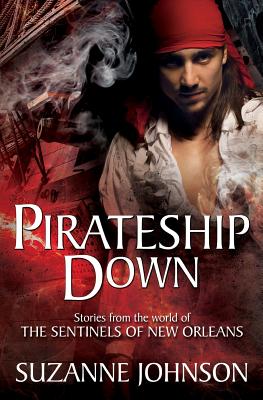 Pirateship Down
Stories from the World of the Sentinels of New Orleans
Paperback

* Individual store prices may vary.
Description
French pirate Jean Lafitte is tall, cobalt-eyed, broad-shouldered, and immortal. What's not to love? But New Orleans' most esteemed member of the historical undead is headed for trouble. He's determined to reclaim Le Diligent, his gold-laden schooner lost at sea in 1814 and recently found at the bottom of the Gulf of Mexico near Terrebonne Parish, Louisiana. The U.S. Coast Guard and the Terrebonne Parish Sheriff's Office might beg to differ. New Orleans wizard sentinel DJ Jaco and her merman friend Rene Delachaise can either lock up their friend Lafitte or join him on a road trip to Cajun country in order to save him from himself. Terrebonne Parish-not to mention its jail-might never be the same after the events of the all-new novella Pirateship Down, presented here along with a collection of urban fantasy stories and essays. Wizards and Cajun merfolk, sexy shapeshifters and undead French pirates. Welcome to the world of the Sentinels of New Orleans in this collection, along with a little Louisiana lagniappe. "A fantastic combination of the best things to find in an urban fantasy. The characters are quirky with lots of clever humor."-RT Book Reviews, on Pirate's Alley, Sentinels of New Orleans Book 4.
Suzanne Johnson, 9780996822008, 280pp.
Publication Date: October 24, 2015
About the Author
Suzanne Johnson grew up halfway between the Bear Bryant Museum and Elvis' birthplace, but was also a longtime resident of New Orleans, so she has a highly refined sense of the absurd and an ingrained love of SEC football, cheap Mardi Gras trinkets, and fried gator on a stick. She currently lives in Auburn, Alabama. She is the author of the Sentinels of New Orleans urban fantasy series. Book five, BELLE CHASSE, is due November 2016. She also is the author of a paranormal short, Christmas in Dogtown. Writing as Susannah Sandlin, she's the author of the best-selling paranormal romance Penton Vampire Legacy series, the romantic suspense series, The Collectors, and the Wildlife Wardens series, coming in 2016.