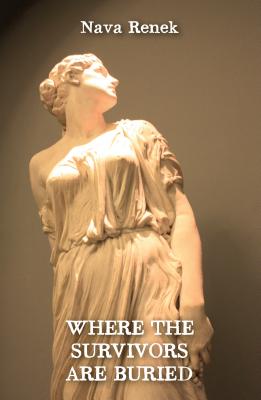 Where the Survivors Are Buried (Paperback)
Two Novellas
Rain Mountain Press, 9780996838443, 250pp.
Publication Date: June 1, 2017
* Individual store prices may vary.
Description
Fiction. WHERE THE SURVIVORS ARE BURIED contains two novellas that explore the eternal struggles couples endure to capture and hold onto illusive everlasting love. Walking East, set in post-9/11 Brownstone Brooklyn, follows the life of Miriam Cornish (Meem), a 42 year-old married mother and former music critic who finds herself at a crossroads in life where she must choose between satisfying her own immediate sexual and emotional desires by joining forces with a charismatic entertainment editor who promises passion, excitement, and the possibility of reigniting her flagging writing career, or forgoing personal and immediate satisfaction to maintain the stability of the family she's spent the last ten years creating and nurturing. In Fly Away Home, world weary couples therapist, Elliot Rapp, tries to escape his awareness of the emptiness he sees at the heart of many things by self-medicating, using alcohol, pharmaceuticals, and casual sex, while carrying on his role as attentive listener, devoted husband, and dutiful father of two young daughters. Elliot observes: "human beings use each other like tools: a fulcrum, hammer, screwdriver, or wedge, something that provides the manner from which one can extract oneself from an unpleasant situation." Set on the Upper West Side and the Jersey Shore, this novel details the collateral damage brought on by infidelity and divorce, as each member of the family struggles through the dissolution and slowly finds resolution in the act of moving on.

"Exposing a world where couples are like frayed pieces of jigsaw puzzles that will never fit together again and the sexes fight eternal battles between freedom and captivity, WHERE THE SURVIVORS ARE BURIED contains two short novels, both darkly funny, deeply poignant, and filled with complex and engaging characters with the contemporary post-feminist bent of Mary Gaitskill and the carefully detailed social realism of Doris Lessing."--Aimee Parkison

"Nava Renek is a knowing chronicler of the confusions into which love's contradictory needs deliver women and men--and bury them. But while these two novellas of difficult marriages show us the 'neurotic toxicity... only New Yorkers can emit, ' Renek's feeling for her characters also delineates how humans are built to survive, to rock all night long, finding the stories that sustain them. This is a wry and compassionate writer, a novelist for adults."--Ted Pelton.
or
Not Currently Available for Direct Purchase