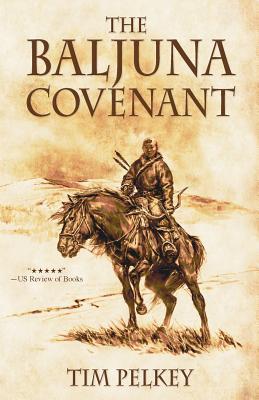 The Baljuna Covenant (Paperback)
Sdp Publishing, 9780996842679, 366pp.
Publication Date: November 1, 2016
* Individual store prices may vary.
Description
James Andrews finally appears to be catching a break. After years of searching for Genghis Khan's tomb, he unearths a bone during a dig on Burkhan Khaldun, Mongolia's holy mountain. After tests suggest the bone belongs to Genghis Khan, Andrews and his colleague Abbey Conrad follow the strands of the bone's DNA back through time and begin to unlock the secrets of thirteenth century Eurasia.
Mongolia is in the midst of turmoil. As the world's superpowers vie for control of it's vast resources and open lands, Andrews's quest takes center stage. Past and present collide, revealing ancient truths along with a web of deception that tears Andrews's life apart and pushes the world to the brink of war.
Part historic fiction, part archaeological mystery, and part political thriller, The Baljuna Covenant tells stories of a poor boy's rise to the heights of world power, of two friends and unimagined betrayal, and of a secret kept for over half a millennia. Most of all it tells the story of a promise between Genghis Khan and his people, a promise kept until this day.
REVIEWS
" . . . This is a fascinating first novel, in great part due to the rich background of Mongolian history as well as contemporary Mongolian political history that the author provides. Pelkey] deftly works into the novel chapters that follow the rise of the young Temujin--later to be known as Genghis Khan--and his closest allies as they rode the steppes eight hundred years ago to form the greatest empire of the ancient world.
I would be remiss if I didn't mention the wonderfully clear and concise explanation of gene sequencing and its use in narrowing down the ancestral line of Genghis Khan, a key plot element. It was so clear that even I could understand it
Four trowels for 'The Baljuna Covenant'. . . . With the October 2004 review, we began rating the books on the basis of one to four trowels; one trowel = don't bother, to four trowels = run right out to your local book store and buy the hard cover "
--Mississippi Valley Archaeology Center
The Baljuna Covenant is an engaging and suspenseful read . . . Pelkey has written a rich and captivating novel.
--US Review of Books http: //www.theUSreview.com/reviews/The-Baljuna-Covenant-by-Tim-Pelkey.html .
Insightful . . . quick . . . A clever, complex tale that should pique readers' curiosity about Genghis Khan and leave them looking forward to the author's next book.
--Kirkus Reviews https: //www.kirkusreviews.com/book-reviews/tim-pelkey/baljuna-covenant-sr/
Featured Review in March 1, 2017 issue of Kirkus Reviews
Featured in 2017 American Book Fest http: //www.americanbookfest.com/generalfiction.html
AWARDS
2017 Eric Hoffer Award Finalist
Finalist for 2017 11th Annual National Indie Excellence Awards for Political Thriller
Finalist for 2017 29th Annual Independent Book Publisher's Association Benjamin Franklin Awards for First Novel, Popular Fiction, and Historical Fiction.
Silver Medalist for The Bill Fisher Award for Best First Book: Fiction
Silver Medalist for Popular Fiction
Silver Medalist for Fiction: Historical
RECOMMENDED READING LISTS
KIRKUS REVIEWS
US REVIEW OF BOOKS
STEVOS BOOK REVIEWS ON THE INTERNET