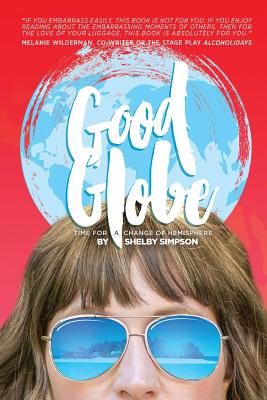 Good Globe
Time for a Change of Hemisphere
Paperback

* Individual store prices may vary.
Description
A million things bind us to the repetitive drudgery of our every day lives. Our imagined confines breed a horde of excuses that keep us from stepping outside of the usual, the monotonous, and taking that final step needed to start our travel dreams-the long-term vacation, living overseas dreams. This is a true story of what happens when comfort stays on the tarmac and fades into the distance like a forgotten canvas duffle bag. This is about making sure the bucket list gets completed tomorrow. Throughout her life, Shelby Simpson has abandoned monotony in search of the next great adventure. She has visited 39 countries and lived in seven-traveling from the surreal beaches of Fiji to the winding halls of a Bolivian prison, and to dozens of locations in between. Each new destination reveals a new story, a tasty local cocktail, and a piece of a powerful truth: Fear is the only barrier to discovering that people are really all the same. This book is a glimpse at the wonders we can discover when we find the courage to take that first step to travel outside of our comfort zone. There are belly laughs, panicked gasps, and awed silences to be had in every corner of this magical globe. All it takes is a little gumption, a shot (or five) of vodka, and the goodness inherent in people everywhere.
Drunk Publishing, 9780996856607, 364pp.
Publication Date: September 21, 2015
About the Author
Shelby Simpson was born and raised in Enid, Oklahoma until leaving to attend college in Arizona at age eighteen. During her time in Flagstaff, she took out a loan to study overseas-a decision that would launch a ten-year travel career. She believes in treating her body like a temple Monday through Friday and a carnival Saturday through Sunday. Rugged nature is her happy place, with a solid dance session (to throwback hip-hop jams) on an LED dance floor as a close second. She is currently working on fitting five lifetimes into one.
or
Not Currently Available for Direct Purchase