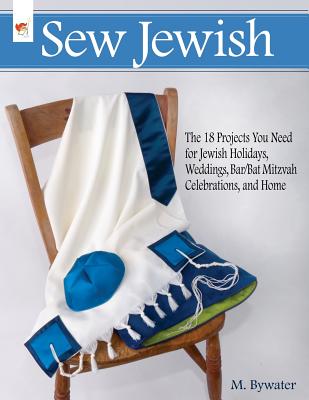 Sew Jewish
The 18 Projects You Need for Jewish Holidays, Weddings, Bar/Bat Mitzvah Celebrations, and Home
Paperback

* Individual store prices may vary.
Description
Sew your own Judaica
Beginning sewing skills are all you need to create these 18 Jewish-theme projects, from classic Judaica including a prayer shawl and Passover matzah cover, to modern items such as a cuddly alephbet baby blanket and an accent pillow decorated with with a cheerful Shalom
Complete step-by-step instructions with illustrations and color photographs.
Expert tips plus a section dedicated to basic sewing techniques to help even beginning sewists create beautiful results.
Includes interesting tidbits about the teachings and history behind Judaica and Jewish traditions.
"Clear and beautifully illustrated. I especially like the detailed prayer shawl pattern/instructions, which answer all the questions beginners and beyond have been asking me for years about construction."
- Cathy Perlmutter, President, Pomegranate Guild of Judaic Needlework
"The color photos and simple instructions and patterns will help anyone feel confident in taking on a project. Bywater's cheerful writing style and helpful explanations of the religious significance of items will appeal to younger readers or those new to Judaism and wishing to learn more."
-Publishers Weekly
"The combination of handcrafting and Jewish tradition adds further value and meaning to these projects, and Bywater's approach is both thoughtful and celebratory."
-Library Journal
Sew Jewish, 9780996858229, 152pp.
Publication Date: March 30, 2016
About the Author
Maria Bywater is the designer behind Huppahs.com, the leading national wedding huppah rental company. She writes about Judaism and sewing on her blog, Sew Jewish (sewjewish.com). As an American living and traveling abroad, she became inspired to explore Jewish cultures and traditions through needle crafts. Maria now lives in New York with her two daughters amid a large extended family.