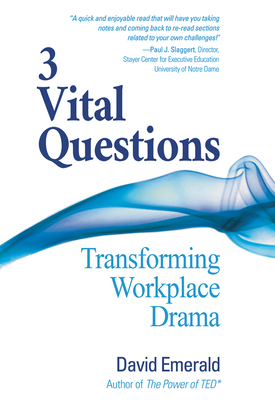 3 Vital Questions (Paperback)
Transforming Workplace Drama
Polaris Publishing, 9780996871839, 226pp.
Publication Date: March 26, 2019
* Individual store prices may vary.
Description
Finalist, 2019 Indie Book Awards, Careers Category

Transform Workplace Drama into Workforce Empowerment!
 
If you have ever experienced infighting, such as a team or a department pitting itself against another team or department; if you have ever worked for a micromanaging and overbearing boss; if you have ever navigated the changes that come with a merger or other significant restructuring process, then you have had a front-row seat for organizational drama.
 
3 Vital Questions is a teaching story about transforming workplace drama and its heavy costs to organizations. 

Working late at night, Lucas, a middle manager in a large organization, meets a custodian named Ted. The two strike up a friendship as Ted teaches Lucas three vital questions with the power to transform the disillusionment he is experiencing at work. Readers follow Lucas as he learns how to shift from feeling like a Victim to acting as a Creator in his career. With the wise guidance of Ted and Kasey, a senior manager, Lucas applies the three vital questions and begins transforming his workplace relationships, with exciting results. At home, Lucas and his wife Sarah discover how the questions can spark creative collaboration with each other and their two young children.

This long-awaited and highly enjoyable read by the author of the bestselling self-leadership title, The Power of TED* (*The Empowerment Dynamic) ushers in a new era of possibility for the world of work. This book teaches David Emerald's groundbreaking 3 Vital Questions® approach for empowering leaders and teams to become collaborative, engaged, and resilient in the face of the rapid changes that mark today's increasingly complex competitive environment.
 
About the Author
Drawing on three decades of applied experience, David Emerald is the celebrated creator of leadership frameworks proven to powerfully boost teamwork and productivity. Since the release of David's bestselling book, The Power of TED* (*The Empowerment Dynamic) thousands of people and organizations have achieved breakthroughs by applying his self-leadership techniques and attending his seminars worldwide. Working in close collaboration, David and his wife and business partner Donna Zajonc MCC have developed the frameworks that form the basis of the engaging workplace fable, 3 Vital Questions:Transforming Workplace Drama. He and Donna are the co-founders of the Bainbridge Leadership Center.
Praise For 3 Vital Questions: Transforming Workplace Drama…
"An engaging story that will help you escape from the traps of victimhood and enablement. Applying what you read will help you become truly proactive as you develop high trust in yourself and healthy relationships with others. Enjoy it and make the shift that creates true effectiveness!"  —Stephen M.R. Covey, author, The Speed of Trust
"David Emerald is one of the great champions of positive behaviour change as the best remedy for the heavy cost of workplace drama – both personally and organizationally. His book, 3 Vital Questions, provides accessible new insights and tools that will be valuable for anyone." —Michael Bungay Stanier, author, The Coaching Habit
"Creators change the world, but victims suck. They suck time, energy and momentum out of challenges desperate to become great opportunities. David Emerald has mastered helping leaders move from being victims of circumstance to creators choosing the brilliant futures they want. His new book, 3 Vital Questions is the roadmap for how to make this happen."  ––Mike Maddock, author, Free the Idea Monkey
"Really smart and helpful information about . . . stronger, saner, and healthier ways of behaving."  —Elizabeth Gilbert, author, Big Magic: Creative Living Beyond Fear
"This book illuminates the secret ingredient in change leadership—the human dimension. With its laser focus on outcomes, the 3 Vital Questions will revolutionize the way you think, relate and act to create sustainable change in times of rapid transformation." —Alison L. Ferren, MBA, Senior Vice President, Integration and Performance Improvement, Thomas Jefferson University & Jefferson Health
"Like many of us, I have encountered several change management approaches over the course of my career. I've found none as helpful and practical as those in David Emerald's The Power of TED* and his new book 3 Vital Questions. It is a vital read for any leader looking to inspire breakthrough change throughout their organization." —Robert T. Green, Senior Vice President, GE Healthcare Partners
"It is impossible to describe what a profound impact the 3 Vital Questions have had on my life, personally and professionally."  —Chris Nagel, Director of Leadership & Team Development, Cleveland Clinic
 "David Emerald's 3 Vital Questions: Transforming Workplace Drama empowers us to create healthy workplaces focused on dynamic interactions and sustainable results."  —Karen M. Wall, Vice President, HR Shared Services, Fresenius Medical Care—North America