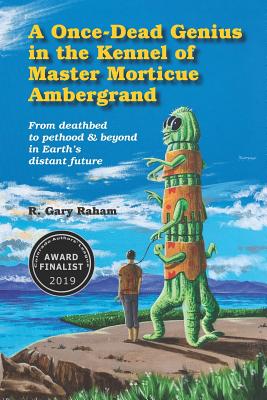 A Once-Dead Genius in the Kennel of Master Morticue Ambergrand (Paperback)
From deathbed to pethood and beyond in Earth's far distant future
Penstemon Publications, 9780996881944, 250pp.
Publication Date: March 11, 2018
* Individual store prices may vary.
Description
What happens when you die, but the universe isn't done with you? You might end up as the pet of a giant worm-a-pede alien and...if you survive your evolved descendants and rogue aliens of 1 million A.D...discover you have more in common with intelligent worms than you ever thought possible. Yes, all this might happen if you are Rudy Albert Goldstein-the discoverer of the Biomic Network Algorithm-who thought his time had come. He had done his part to make the world a better place. Now he deserved-even looked forward to-a peaceful and mercifully succinct death. But the universe had other plans...
About the Author
Author/illustrator, Gary Raham, loves to bring science alive-especially paleontology-through his writing and illustrating work. He has written (and in some cases illustrated) 19 titles of science fact and/or science fiction. He writes science columns for The North Forty News and Colorado Gardener Magazine and serves as Assistant Editor for Trilobite Tales, the newsletter of the Western Interior Paleontological Society. Kirkus describes his most recent title, Confessions of a Time Traveler (Penstemon Publications, 2015) as "A welcome excursion for pop-sci fans featuring a number of striking artworks." Raham has written for Cricket, Highlights for Children, Discovery Channel Books, Good Neighbor Press, Chelsea House, Marshall-Cavendish, Teacher Ideas Press, Fulcrum and other publishers. He has illustrated for Grolier, Inc., Oxford University Press, US Fish and Wildlife Service, and the City of Fort Collins.