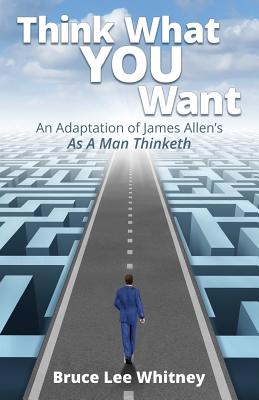 Think What You Want (Paperback)
An Adaptation of James Allen's As a Man Thinketh
Biggest Room of All, 9780996885416, 66pp.
Publication Date: October 8, 2015
* Individual store prices may vary.
Description
How to Stop Chasing Your Dreams and Start Making Them Come True From the original inspiration for the blockbuster hit The Secret-James Allen's 1902 classic As a Man Thinketh-comes a new adaptation, Think What You Want. Revised from the original, and updated for the 21st century, this adaptation of one of the most significant New Thought books provides a fresh perspective on the core principles behind the power of positive thinking and the Law of Attraction. Find Out What it Takes to Change Your Life: -Uncover the secret to realizing your dreams. -Learn a simple strategy to set and reach your goals. -Unlock the power to create your own destiny. -Discover why you do NOT attract what you want. -Understand the one thing you must accept to be free. Contemporary Works Have Muddied the Message There are significant distinctions between what James Allen wrote in 1902 and more contemporary works, like Rhonda Byrne's 2006 blockbuster hit, The Secret. While the principles behind the "Secret Law of Attraction" are sound, something had gone awry in modern nomenclature. Discover What Has been Lost Along the Way As a Man Thinketh is no Law of Attraction Bible, but what can be found there about applying the power of positive thinking for success makes all the difference. In fact, one of the most significant revelations is how James Allen perceived the principle of attraction. This adaptation brings to light what it really takes to manifest your deepest desires and fulfill the destiny of your choosing. What was Old is New Again Beyond illuminating the core principles of New Thought, As a Man Thinketh transcends its own time, as well as the past one hundred years. And not only does it remain relevant today, its resonance will grow even deeper as the practice of mindfulness becomes more prevalent. Think What You Want This book is Bruce Lee Whitney's take on As a Man Thinketh. The philosophy is all James Allen's. What Mr. Whitney has done is contemporize much of the language, update references, rephrase and elaborate on some concepts, and add context. Please enjoy reading the wisdom of James Allen in this new adaptation, Think What You Want.
About the Author
Bruce Lee Whitney Entrepreneur, speaker, and change agent Bruce Lee Whitney is an intrepid explorer of the tools, resources, and strategies that improve businesses and people's lives. After facing personal tragedy and professional challenges in 2009, Mr. Whitney applied his knowledge and experience in Change Management and Cognitive Behavioral Therapy to transform his life. Since then he has dedicated himself to changing the lives of others, through the development of resources and training packages, executive and personal coaching, workshops, and speaking engagements. As founder and CEO of The Biggest Room of All, a transformative technology company in Los Angeles, he most recently developed the motivational app, Affirmation Time, for iOS and Android. Before Mr. Whitney began his own journey of personal change, he worked with a diverse array of businesses-from the performing arts to technology and from corporations to startups. He placed each organization on a path to success by identifying where and how they needed to adapt to changing markets and changing times-and by helping the people within the organizations manage change, in order to improve. The inspiration for The Biggest Room of All comes from his signature greeting, "Welcome to the biggest room of all, the room for improvement!" In addition to writing Think What You Want, Mr. Whitney is currently working on his forthcoming book, Mindset, Ready, Go! Please visit www.bruceleewhitney.com to learn more about the author.