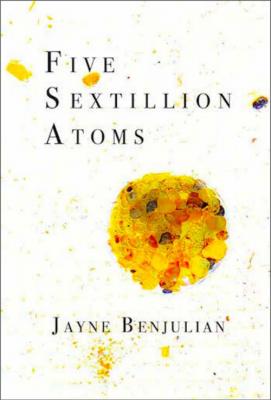 Five Sextillion Atoms (Paperback)
Saddle Road Press, 9780996907415, 82pp.
Publication Date: June 8, 2016
* Individual store prices may vary.
Description
In poems of tautness, acuity of imagery and epigrammatic exactitude, the poems of Five Sextillion Atoms distill matters of public and family history into the deeply personal inner worlds of child and mother. Nuanced and gripping, Five Sextillion Atoms is the debut of a skilled portraitist and satirist.
Praise For Five Sextillion Atoms…
Five Sextillion Atoms is a highly distinctive and gripping book notable for the ways in which it combines the stories of family history with larger matters of public history. I was struck repeatedly by the formal compression of the poems, the tautness and acuity of the imagery and the epigrammatic exactitude of the closings. While the concerns are often highly elegiac, the poems scrupulously avoid sentimentality and effusions. Benjulian has terrific skills as a portraitist and satirist, and many of the poems are sly and wry examples of these talents. - David Wojahn

In a single drop of water there are five sextillion atoms, yet Earth in relation to the rest of the universe is infinitely smaller still by comparison. Jayne Benjulian takes this astonishing fact for the title of her first collection of poetry and aptly so, for these poems hold vast reaches of perception, loss, personal and family history, all with admirable compression. Diamond edged, fiercely honest, Benjulian's work pulses with lyric intensity. - Daniel Tobin

What distinguishes Benjulian's debut collection is the enormous range of history--personal and world--it covers and does so by employing spare, unadorned language, and does so while withholding all but essential narrative, and does so by focusing the reader's attention to vivid, precise details that arise from memory and present day occurrences, details that are tiny and large at once. Five Sextillion Atoms deserves our attention and our praise. - Martha Rhodes