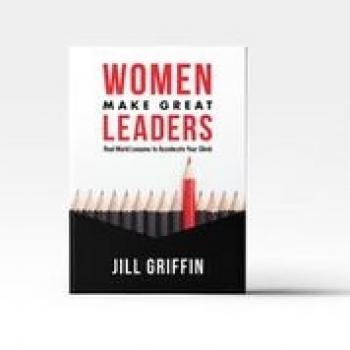 Women Make Great Leaders (Hardcover)
Real-World Lessons to Accelerate Your Climb
Jill Griffin Books, 9780996921824
Publication Date: May 23, 2017
* Individual store prices may vary.
Description
My new book is about women who have beaten the odds. Early on, they heard the whispers....the inner-call to leadership. They answered, and continue to answer it, with fierce passion---and the courage, boldness and resilience required to rise to the next level and the next, and the next. They continually polish their talent with a capacity to work really hard, help others succeed, and play the game fair and honest. They never lose sight that their purpose is to be kind, generous, and to dare greatly to make the world a better place. These women are doers and risk takers. They face their fears head-on. When they misstep, they pick themselves up and use the lesson to inform their steps forward. Along the way, they are patient with the ebb and flow of life. Many become devoted wives, partners and mothers while still building careers and influence. They all remain true to their work as leaders in the world, carrying it out with the grace, diplomacy and fortitude it requires. Welcome to the lessons these amazing women teach us.
About the Author
Jill Griffin is an independent public board director; internationally-published, Harvard "Working Knowledge" author; and global thought-leader on customer loyalty. She is passionate about bringing more diversity to the corporate board room. Since 2003, Jill has served as Board Director for Luby's/Fuddruckers Restaurants (NYSE: LUB).
Her ground-breaking book, Customer Loyalty, has been published in eight languages. Two awarding-winning books followed: Customer Winback and Taming the Search-and-Switch Customer. She published Earn Your Seat on a Corporate Board in 2016.
or
Not Currently Available for Direct Purchase