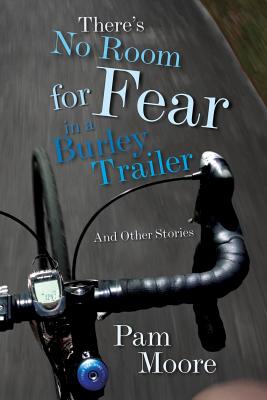 There's No Room for Fear in a Burley Trailer
And Other Stories
Paperback

* Individual store prices may vary.
Other Editions of This Title:
Hardcover (11/10/2015)
Description
About a year ago, in the spirit of trust and cooperation, in azombielike rosemary-mint- shampoo-induced-trance, I told my hairdresser shecould do whatever she wanted. I ended up with bangs for the first time since 1991. And you know what? - They were cute - They were fun - They totally wentwith my face and my new chin length hair WHY HAD I BEEN AVOIDING BANGS SINCE THE SEVENTH GRADE ?

No sooner had I experienced the thrill of lathering my newlyshortened locks and the first post-shower shake of my new hair when I realizedall the ramifications of my new coif...
Pam Moore moved halfway across the country (after giving away many possessions), found a new job (it didn't last), finished two Ironman races (and lived), dated (looking for the proverbial Jewish doctor), met her WASP husband (at a bar), settled down (bought a house), and had two children (at home).
And wrote about it all.
This collection of personal essays and reflections covers the ups and downs of life, the joys and fears of parenting, and how hard it is to have bangs (it really is).
Pamela Moore, 9780996923620, 270pp.
Publication Date: June 1, 2016