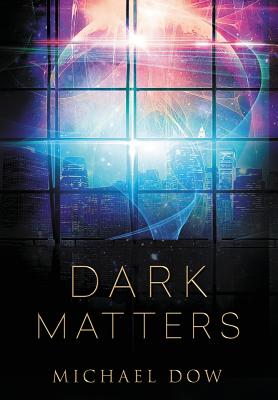 Dark Matters (Hardcover)
A Science Fiction Thriller (Dark Matters Trilogy Book 1)
Gtm Ventures LLC, 9780996937528, 346pp.
Publication Date: February 16, 2016
Other Editions of This Title:
Paperback (1/29/2017)
Paperback (10/22/2015)
Paperback (2/14/2018)
Hardcover (2/7/2017)
Hardcover (2/27/2018)
* Individual store prices may vary.
Description
When we finally unravel the mystery of dark matter... will it save our world? Or destroy it?
INDIEFAB Gold Medal Winner, IPPY Gold Medal Winner, NextGen Indie Gold Medal in Science Fiction
"It's everything I love in a novel... Don't miss this debut " --James Rollins, NYTimes bestselling author of The Bone Labyrinth
Rudolph "Rudy" Dersch is the newly minted CEO of the world's largest, multi-trillion-dollar corporate conglomerate. But the job comes with an unexpected twist-an invitation to join the Consortium, a small, secretive group of global elites who effectively decide what's best for the rest of humanity. How does Rudy's struggle to reconcile business and family impact the world's future? And who, if anyone, can break the Consortium's iron grip on the status quo?
The answer may lie with a renegade physicist, close to unraveling one of the universe's greatest mysteries. And a headstrong art curator, driven to find the meaning behind her increasingly compelling visions. From a life-changing moment in a crowded Singapore marketplace, to the business end of an assassin's gun, they face a power beyond any the world has ever seen. To survive, they'll have to decipher the truth about dark matter-before the Consortium can achieve its ruinous end game.
Discover the debut science fiction thriller that raised more than $25,000 on Kickstarter, with 5,000+ social media followers-months before its release. Take an epic journey to a not-so-distant future of extreme income inequality, controlled by a handful of the ber-elite. A world where wealth, science, and the power of the human spirit get one last chance to determine humanity's ultimate fate.
ABOUT THE BOOK
DARK MATTERS is a thought-provoking technothriller, set in a world fully polarized by the rift between the haves and the have-nots. It is a world of extraordinary new technologies-but also one of dwindling natural resources, and an ever-swelling human population. Dark Matters offers a unique, entertaining, and (mostly) fictional perspective on the topics of income inequality, the responsibilities of wealth, and our ultimate role in the universe. This dystopian adventure is the first book in the Dark Matters Trilogy.
Praise for Dark Matters
"It's everything I love in a novel: scientific speculation, stunning action, and characters that leap off the page. But best of all, it's a novel that combines all of the above into a seamless, thrilling story. Don't miss this debut " --James Rollins, New York Times bestseller of The Bone Labyrinth
"The author walks a fine line between what is ordinary in this world and what could actually become nefarious and chilling. It's unnerving... that's what makes it a page-turner." - Foreword Reviews
"An interesting premise... not your typical action oriented sci-fi adventure." - SFFWORLD
"It's an ingenious idea... I can't wait for the next two books " - Matthew Barnes, Carpe Libris