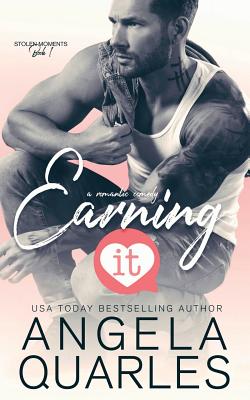 Earning It
A Romantic Comedy (Stolen Moments #1)
Paperback

* Individual store prices may vary.
Description
One blind date. One case of mistaken identity. One Navy SEAL faced with his high school crush. What could go wrong?
To Score...
Holy cow, my blind date is rawr-hot. Everything in me aches to explore more with this man, but I can't. I've got too much on the line professionally, with me starting at my new medical practice on shaky ground. But I can't deny that I want the sex. A fling is perfect. Bonus--I will prove my idiot ex-boyfriend wrong. I'm not cold.
Or Not to Score...
Once she mistakes me for her blind date, my plan is clear. Be this Rick the Lawyer she thinks I am. And for the space of this coffee date, talk to the only woman who's ever made me feel any spark outside of combat. Best case scenario, I get to be outside my skin--free to be whatever the hell I want. Worst case--she recognizes me as we chat. She'll be pissed, call me an asshole, but it won't be anything she hasn't called me in the past, so... Win/Win?
Unsealed Room Press, 9780996946018, 160pp.
Publication Date: October 4, 2017