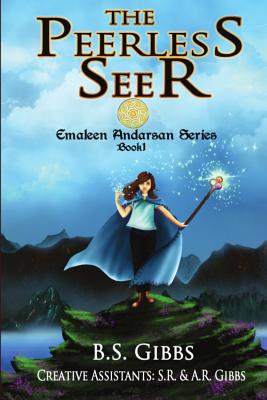 The Peerless Seer (Emaleen Andarsan #1)
Paperback

* Individual store prices may vary.
Description
This first book in the Emaleen Andarsan Series takes readers on a journey that includes a unique system of magic, a dystopian-like society, and a young girl's quest to fight the evil that stalks her.

In The Peerless Seer, eleven-year-old Emaleen Andarsan has been living a quiet, seemingly uneventful life with her Aunt Zeraida and Uncle Morvin near a lake in the Adirondack Mountains since her parents gave her up for adoption when she was just a few weeks old.

Every day when Emaleen gets home from class, her aunt asks her if anything strange happened at school. The odd question starts to make sense when, just before summer break, Emaleen realizes she has unique and unusual abilities--magical abilities that can be a significant a danger to her life as well as an incredible and astonishing gift.

It's crucial for her safety, and for the safety of those she loves, that Emaleen not only trains her powers for her own defense but that she learns to harness them, controlling them even as she nurtures them. Along the way, she faces unexpected challenges and discovers she's not alone: there are many people and animals in her life who support and love her and are willing to protect her at any cost.

The Peerless Seer is a tale of the courage, determination, discipline, and dedication it takes to grow in kindness and character, achieve goals, and realize ones full potential.
Gibbs Publishing, 9780996950909, 272pp.
Publication Date: December 2, 2015
or
Not Currently Available for Direct Purchase