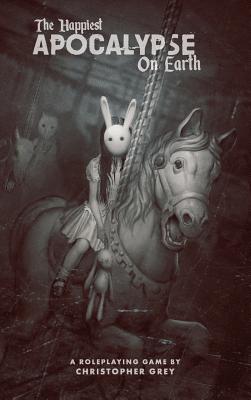 The Happiest Apocalypse on Earth (Hardcover)
A Roleplaying Game
Christopher.World, 9780996952262, 172pp.
Publication Date: February 15, 2018
Other Editions of This Title:
Paperback (2/15/2018)
* Individual store prices may vary.
Description
The Happiest Apocalypse on Earth is set in a fictional theme park called Mouse Park. Its special blend of satire and horror takes collaborative storytelling to the brink, where players can take on the role of guests or staff in a theme park that barely masks a terrible horror lurking beneath.
What horror Mouse Park brings is up to you--the truth of the Great Mouse Who Lies Beneath, the ancient mystical orders that protect Him, the sacrifices those in the park must endure, and the beasts of nightmares that spawn from His depths--all of that is for you to uncover. You may choose to protect the innocent from the evil of Mouse Park, or you may wish to perpetuate it.
Whatever your course, you are in it now. Lower your head and watch your step.
A tabletop roleplaying game for 2-5 players.
Powered by the Apocalypse.