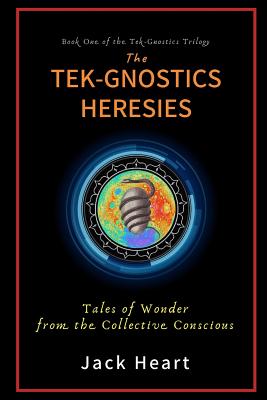 The Tek-Gnostics Heresies (Paperback)
Tales of Wonder from the Collective Conscious
Tek-Gnostics Media, 9780997063509, 152pp.
Publication Date: April 27, 2016
* Individual store prices may vary.
Description
Is the Paranormal fast-becoming the New Normal? What is the Technological Singularity and why are America's top tech gurus afraid of it? What strange attractor connects Carl Jung's synchronicity with archaic Gnostic teachings? What vast conspiracy emerged after WWII, virally expanding its influence via the CIA, LSD & UFOs? What obscure manuscript ties 60's legend Timothy Leary, with rare Hindi texts?"How many rivers do we have to cross... before we can talk to the boss?"In book one of the Tek-Gnostics Trilogy; author Jack Heart explores the amazing events that have led up to our fantastic present-day. From a counter-cultural historical perspective, psychedelics have played an integral, pivotal role in humanity's rapidly evolving consciousness. But what mysterious, synchronistic force connects LSD-25 to ancient entheogenic mystery cults? Here's a clue: By the time you get to the end of this psychedelic romp... you will never view the Eucharist in the same light again.
About the Author
Raised in the Pacific Northwest, educated on the west coast, witness to the decline of extractive industries, advocate of environmentally sound transition to a new paradigm... Jack Heart lives with his family at the crossroads of the Siskiyou & Cascade Mountains. Jack Heart is the curator of the Tek-Gnostics website: www.tekgnostics.com. He can be reached at: jackheart@tekgnostics.com