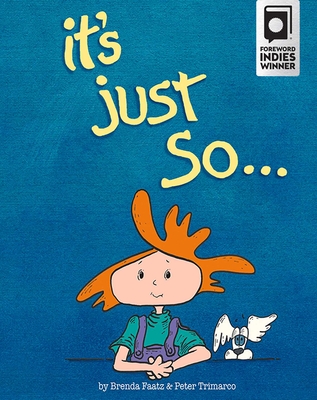 It's Just So (Hardcover)
Notable Kids Publishing, 9780997085105, 40pp.
Publication Date: April 16, 2016
* Individual store prices may vary.
Description
It's Lizzy's first day in a brand new school! At first things feel "just so" scary and "just so" hard, but in the end, they're "just so".... not what she thought they would be! From waking up early and boarding the bus for the very first time to meeting new friends and painting outside the lines, it's a day of discovery and perspective for a little girl named Lizzy.
About the Author
Brenda Faatz has an undeniable connection with children. Some say it's because they instinctively know "one of their own." A graduate of The University of Northern Colorado with a degree in Musical Theatre, Brenda is a professional singer, dancer and actor. Along with her husband, Peter Trimarco, she wrote the music, lyrics and script for the original Wee Noteables musical theatre live performance series for children. Brenda also founded and currently directs and teaches at the Notable Kids Arts Center in Denver, Colorado where she has the honor of interacting with and learning from children and their families on a daily basis. This is her first children's book because, as she likes to say... "no one ever told me I couldn't."
Peter Trimarco was a fine arts student who graduated from Lake Forest College with a degree in literature and went on to pursue a career as an editorial cartoonist…but drawing 'grownups' stopped being fun. Before being inspired by the opportunity to co-write and illustrate a children's book with Brenda, he journeyed through life as an entertainment industry professional. From art director to executive producer to publisher of an international film magazine he found a good deal of success (awards and working with people who had entourages). But then came working with children and it became fun again. The words began to flow and with it, the paint, the ink and, most important, the orange hair on Lizzy's head. 
…and three simple words from Brenda put it all in motion" "It's Just So…"
Praise For It's Just So…
"Perfect for children in transitional stages, Lizzy's story of adapting to a new school is charming and hopeful.
Vibrant illustrations and an engaging main character help young readers explore themes of resilience, courage, and perseverance in Brenda Faatz's  It's Just So …

Lizzy is a bit nervous about her first day at a new school. After all, it's just so … overwhelming. Lizzy wonders if she'll make friends, and the big new school building is a little scary.  It's Just So …  follows Lizzy throughout the whole day, from the moment she wakes up, through the bus ride and a lonely lunch, to her building excitement as she comes to realize that the new school may, in fact, be a lot of fun after all.
Lizzy's transition from nervousness to happiness is helped along with the 'it's just so' catchphrase. In the beginning, everything is 'just so' scary or tall or big. As Lizzy becomes more comfortable through her first day, her growing enthusiasm leads to playful, creative new wording, such as 'it's just so … mathemagical' and 'it's just so … fizz-astro-fantastical.' The silly words and rhyming text make it an especially fun book for reading aloud.
The colorful, vivid illustrations are detailed and sure to delight young readers. The changing fonts and text sizes and the varied colors work well with the corresponding illustrations and story narrative. Lizzy's different moods and feelings, from nervousness and loneliness to excitement and contentment, are effectively captured in the drawings, and the renderings of her classes and activities are meticulous and vibrant.
Though a few of the rhymes are a bit overworked, the rhyming text flows smoothly for the most part, and the cleverly playful typography (for instance, the words 'outside the lines' are set in a wavy style, bringing the actual text outside the line) makes reading even more fun.
The narrative maintains a positive tone, and Lizzy's enthusiasm is contagious. Good lessons on overcoming fears and staying positive are illustrated through her character. Despite her nervousness, Lizzy remains hopeful throughout her day, and her choice to actively participate in drawing, music, and other subjects soon helps her to overcome her concerns and end her day happily and successfully.
It's Just So …  will be particularly helpful for children experiencing a transitional stage, such as entering a new school or home, and the combination of creative art, amusing rhymes, and a delightful main character is engaging and especially entertaining for reading out loud." — Jeannine Chartier Hanscom, Foreword Clarion Reviews
 
 
"It's just so....fun to read this book to the kids in my class. This book makes for an amazing read aloud. This story is about Lizzy's first day of school where she experiences so many things and comes up with some fun words to describe her feelings. The words are fun to read aloud and caused my kids to laugh a few times. This is a great book to read to kids either at home or in the classroom on the first day of school. I love how the text changes color and size throughout the story. It makes it very fun when a child is reading it with you or when a child is reading independently. It is a fun touch. The illustrations are bright and fun as well and add to and match text wonderfully. A great story to help with first day of school jitters and a story that will facilitate conversation about the feelings and fears that come from those jitters." — Mrs Mommy Booknerd, mrsmommybooknerd.blogspot.com 
"Back to School Books! Great book for getting kids excited and ready to head back to school!... It's Just So…hard or just so… scary or just so… new OR just so unexpectedly wonderful–these are some of the emotions adventurous Lizzy goes through on her first day of school. This must read book will prepare children ages four through eight for their first day–with bright and colorful illustrations, a bold protagonist, and a lesson in making friends, this book will be loved by parents and children alike." — Editor for SanDiegoFamily.com, San Diego Family Magazine
"5-Stars - Readers Favorite: In It's Just So..., a children's book by Brenda Faatz and Peter Trimarco, there is quite a whole lot going on. Children's books are almost defined by the near necessity to coordinate a pleasing complement of both words and pictures, but rarely do the creators see fit to multi-layer such a project in anticipation of the reader 'growing older.' In other words, to make their work speak differently to children of different ages. Such a challenge would seem a wee bit risky, but success is often its own reward. 

Lizzy is a somewhat addle-pated little redhead girl with her own version of the ubiquitous children's book dog companion (you know, the sidekick who quietly steals the show), who is set to embark on the NEXT BIG ADVENTURE – her very first day at a brand new school. Since Lizzy is as impressionable as any young girl can be, everything (I mean EVERYTHING) strikes her as just so ...

It's Just So... by Brenda Faatz and Peter Trimarco is successful on every level. Lizzy is immediately engaging, as she is just so ... IMPRESSED by everything – a trait shared by many girls her age (and older). You can hear her speaking in your head: 'It's just so ...' And you smile. And though the dog is rather unimpressed, the reader watches Lizzy move quickly from intimidation to acceptance to confidence to utter fearlessness and leadership as she develops a vocabulary beyond her years, and beyond the confines of any stodgy old dictionary. But perhaps the most successful aspect of this endearing book lies in its message: a change in attitude can make any new experience fun.

Lizzy is a wonderful role model for children to emulate as she allows her trepidations to slide under the waves of a new perspective. By opening herself to the FANTASTICAL, not to mention the SCIENCE-SATIONAL, any new experience can become, quite simply, magical, like this wonderfully illustrated, wonderfully worded, wonderfully messaged book, which is just so ..." — Joel R. Dennstedt, Readers' Favorite
"I loved this colorful and entertaining rhyming story... It's Just So… is a special book indeed. Capturing young children's feelings perfectly, this book is an engaging story; perfect for story times, and a very worthy addition to any child's home or school library. Recommended." — Hilary Hawkes, Readers' Favorite
"5-Stars Readers' Favorite:     
It's Just So... is a children's story book written by Brenda Faatz and Peter Trimarco and illustrated by Peter Trimarco. Lizzy was not in a hurry to wake up on the first day of school. She had no idea what would happen, and it all seemed kind of scary. Lizzy tried to stay asleep for a little bit longer, but her tummy started to rumble, and her alarm clock made lots of noise. So she got up, selected a special Lizzy-outfit, and went downstairs for breakfast. When the bus roared up to her house, and the door opened for her, she was startled by how tall it was, and the school they finally drove up to was so very big. Once she got inside, however, Lizzy discovered a whole new world. They read books, which Lizzy got all excited and dramatic about, and learned about numbers and science. Before she knew it, Lizzy was on her way home again after experiencing what was probably the most exciting and fun day of her life. 

Brenda Faatz and Peter Trimarco's children's story book, It's Just So..., follows Lizzy on her first day in a new school which she soon discovers that she really likes a lot. This is a cheerful and entertaining story that helps kids realize that their feelings of fear and anticipation about new and strange experiences are perfectly natural. Kindergarten, first grade, and new schools are major milestones for young children and are also often the first times they are off on their own and away from parents. It's Just So... gives kids an excellent idea of what school will be like. I loved the upbeat and clever verse the authors use in this story, and Trimarco's illustrations are brilliant. Each panel tells a story and expands on the main plot of the book, and the highly detailed drawings are a lot of fun to spend some time getting lost in. It's Just So... is a grand selection for story time as well as a challenging primer for young readers who can use the illustrations to help them past those unfamiliar words. It's highly recommended." — Jack Magnus, Readers' Favorite
"The combination of the colorful illustrations and the zippy rhymes gives Lizzy an adventurous flair:

'Plum-purple, berry-blue splashed everywhere.

She imagined in colors with bold Lizzy-flair.

Great care Lizzy took to paint outside the lines.

As a fierce crayon-artist she started to shine.'

The book is well-designed and has an eye-catching layout. The font size is large and easy to read and the fun typography zig zags and changes sizes to emphasize particular words and emotions. Kids will enjoy sounding out some of the zanier word plays and making up their own new words such as 'oompa-pa-chugga-doo-zippidy-la.'

From the playful words and vocabulary expansion to the exploration of what a first day of school might bring, It's Just So …, the first in a new picture book series, is a fun choice for elementary school aged children—particularly first and second graders that may be changing schools.

Add this book to your collection: It's Just So …" — Bianca Schulze, The Children's Book Review
"With 'It's Just So...' featuring a combination of Brenda Faatz's thoroughly engaging and charming story and the colorfully comedic artwork of Peter Trimarco, the result is a thoroughly entertaining read for children ages 4 to 8, and a highly recommended addition to family, preschool, elementary school, and community library picture book collections." — Midwest Book Review - July 2016
"It's Just So is a delightfully cute and entertaining book…The book is filled with excitement, joy, exuberance, spontaneity, imaginative words, and futuristic imagery into what Lizzy's future in school might hold…(children's) minds will soar as Mom or Dad, teacher or librarian reads this delight aloud to them. I think this is a fun book and can easily recommend it for home, schools, and libraries." — Vera Godley, LibraryThing.com
"A rhyming, read-aloud debut children's book that tracks the mercurial adventures of a young girl during her first day at a new school. Lizzy is prone to extreme emotions and flights of fancy in this richly illustrated tale. She begins the day scared at the thought of a brand-new school and is a bit intimidated as she boards the bus: 'It's just so…tall.' Although the school is 'so big' and the books are 'so wordy,' Lizzy quickly takes over the class by jumping on the desk '… acting out stories— / what crazy good fun!' From then on, Lizzy's day becomes increasingly outrageous. Learning numbers is 'just so...mathemagical,' science is 'just so...fizz-astro-fantastical,' learning about animals is 'just so...wombatty,' … and at bedtime something 'fantastical' happens when animals from her day, including a bunny, turtle, and a dog, crawl into her bedroom to snuggle." — Kirkus Reviews