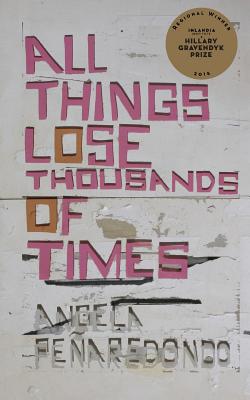 All Things Lose Thousands of Times
Paperback

* Individual store prices may vary.
Description
Total magnificence. Multi-sensory voyager - sculptor of love and painter of concept and delirium, a choreographer of space and a duende-splicer between Baudelaire, Lorca and Strauss. Angela is somewhere in there, cinematic; a Casanova pin-stripe suit, then a fl aring thigh, then a topaz sari. I fi nd Penaredondo a most accomplished poet, a devouring mind and most of all, a deep, intimate observer touching the big bright, dark worlds - their wounds and miracles. She says, "I want to be that kind / who walks through a wall of fi fty lives." Indeed she possesses this kind of power. A genius at work. - Juan Felipe Herrera Poet Laureate of the United States Angela Penaredondo's powerful debut, All Things Lose Thousands of Times, is a luminous and timely book of migratory poetics that gathers in the body, no matter how impossibly marooned, the mouth of the lyric I. Drawn from the compression of loss, ..".beyond the clenched doors, the perfume / of starved fl owers." Penaredondo's speaker seeks in the ..".web of wetness, what...has been written out." The poet's collapsing of cultural dimensions into the weight of traveling through an embodied history and present reveals an urgent landscape (of war, of art, of nature, of people) of the inevitable and the incommensurable: "I'd rather be whoever bathes / in the monsoon, knees swaying- / unequaled. Wanting allows gospel..." Penaredondo's truth brilliantly explores precariousness, revealing the need to move at its edges, and to escape, into "husk" and "crystalline pictograph"-"I came back not to regret / or ask the particulars why I left. / When a tree falls, its roots / aim jagged, pointing / in all directions..." - Ronaldo Wilson Author of Farthest Traveler The poems in All Things Lose Thousands of Times aptly tell a transnational coming of age story, a becoming from the savage and the fertile, the urban and the fantastic, where "heaven comes after collision." This is a stunning debut for Penaredondo, poems that shimmer with dense and riveting lyricism. - Carmen Gimenez Smith Author of Milk and Filth.
Inlandia Institute, 9780997093216, 94pp.
Publication Date: March 1, 2016