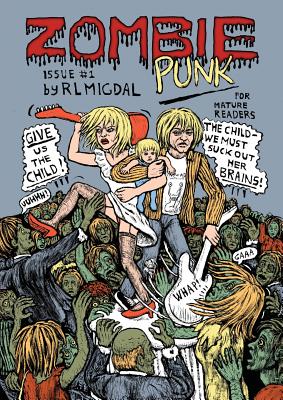 Zombie Punk
No.1-The Curtain Falls
Paperback

* Individual store prices may vary.
Description
In this 1996 adult comic, suicidal rock artist Nurdt Nobrain dies and arrives in a mysterious afterworld, where he reviews events from his life.
Based on historical events from the 1990's, this fictionalized parody examines issues of fame, drug use, suicide, family and sexuality. The graphic novel includes depictions of adult subject matter, profanity, nudity and intravenous drug use.
This is the premiere publication of the original first instalment of a planned comic series, of which only the first issue was ever produced. This collector's edition in full color, a fully realized production designed by the author, features additional material from the author's sketchbooks. Zombie Punk No.1-The Curtain Falls celebrates the completion of the forthcoming novel, Zombie Punk, the first book in The Goddammerung, a series by the same author.
R. L. Migdal is a New York graphic novelist, author, performer and visual artist known both for her confrontational political comics and nuanced explorations of gender issues. Her work has been anthologized in collections published by Seven Stories Press, PM Press and Verso Books. Migdal is a contributing editor at World War 3 Illustrated and a Franklin Furnace Fund for Performance alum.

Mythoprint Publishing, 9780997107104, 38pp.
Publication Date: December 9, 2015