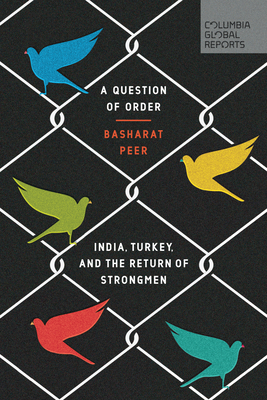 A Question of Order
India, Turkey, and the Return of Strongmen
Paperback

* Individual store prices may vary.
Description
What happens when a democratically elected leader evolves into an authoritarian ruler, limiting press freedom, civil liberties, and religious and ethnic tolerance?
India and Turkey are two of the world's biggest democracies--multi-ethnic nations that rose from their imperial past to be founded on the values of modernity. They have fair elections, open markets, and freedom of religion.
Yet this is an account of how the charismatic strongmen Narendra Modi, in India, and Recep Tyyip Erodgan, in Turkey, used the power they had won as elected heads of state to push their countries toward authoritarian ways.
Journalist Basharat Peer knows only too well how the tyranny of the majority can exact a terrible human toll; it's a story he told in Curfewed Night, his memoir of growing up in war-torn Kashmir. For this book, Peer spent a year and a half traveling across India and Turkey to chronicle the rise of Modi and Erodgan, and to tell the stories of the men and women they have victimized, who have showed courage and endured great suffering because of their love of true democratic traditions. It is more important than ever to understand the failings of democracies like India and Turkey if liberal traditions are to be protected and nourished.

Columbia Global Reports, 9780997126426, 170pp.
Publication Date: March 21, 2017
About the Author
Basharat Peer is an opinion editor at The New York Times. His memoir, Curfewed Night (2010), won India's Crossword Award for Non-Fiction, and was chosen as a Book of the Year by both The New Yorker and The Economist. He has been an editor at Foreign Affairs and The New York Times' India Ink blog, and has written for The New Yorker, Granta, Foreign Affairs, The Guardian, n+1 and The New York Times. Peer studied journalism and politics at the Columbia School of Journalism. He lives in New Delhi.