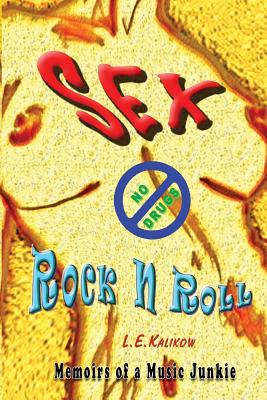 Sex, No Drugs & Rock'N'Roll
Memoirs Of A Music Junkie
Paperback

* Individual store prices may vary.
Description
"Sex, No Drugs & Rock'N'Roll (Memoirs of a Music Junkie)" is a 'balls-to-the-wall' coming of age narrative explicitly told through the eyes of a musical 'baby-boomer Holden Caulfield, ' simultaneously maturing with the country itself. From the 50's innocent invulnerability following WWII, to the teenage years of rebellion and political unrest in the 60's, to the disillusionment and cynicism of the late 70's, sowing the seeds for the 'me' generation to come. The dots connected in two universal languages... Music & Sex. Written in two parts, Part 1 (the 50's & 60's) and Part 2 (the 70's), the book is available as a Paperback, eBook, Audio Book and companion Soundtrack Album containing songs L.E. Kalikow wrote and performed during that time. Although the story is based on true life, certain names, personalities and events have been altered, both for artistic and legal reasons, and should therefore be considered a 'creative re-creation.' For more visit www.LEKalikow.com.
L.E.Kalikow LLC., 9780997131901, 344pp.
Publication Date: February 10, 2016
About the Author
For more than 35 years Mr. Kalikow served as President of Music Business Reference, Inc., and Editor & Publisher of its information service, "New On The Charts." (www.notc.com) Established in 1976, the service was widely used by music executives both in the United States and internationally. In the past Mr. Kalikow was Co-Founder and President of Integrated Video Marketing, Inc., a TV, film and video production company with national corporate clients that include De Beers Diamonds, AT&T, MCI and IBM. Various Kalikow/I.V.M. productions included the home video "How To Break Into Heavy Metal (Without Getting Screwed)" and "Kids & Divorce," distributed to school guidance counselors throughout the United States by Sunburst Communications. He previously worked as Vice President and General Manager of Music Equity, Inc., a music publishing organization responsible for various music publishing companies. Prior to that, Mr. Kalikow served as General Manager at Big 3 Music, the print division of United Artists Music Publishing, printing songbooks and sheet music for such artists as Elvis Presley, Kenny Rogers, Crystal Gayle, ELO, etc. Leonard also co-wrote "RPM," a film script optioned by Universal Pictures and later by 20th Century Fox. In the early 70's as New York Representative for Don Elliott Productions, a commercial jingle house, his accounts included United Airlines, Windsong Perfume, Dodge Cougar, Pepsi Cola, etc.. Before that, as administrative Director of Contemprocon Productions, Leonard was involved in concert promotion and talent management, representing such jazz clients as Larry Coryell, Alphonse Mouzon, and Randy Brecker. Also, as an independent concert promoter, Mr. Kalikow helped organize the first South American dance tour for Mikhail Baryshnikov through Brazil. Listed in "Who's Who In America" for the past ten years, his career in the music business began as a singer/ songwriter under production agreements with both Chess Records in Chicago and then Capitol Records in New York, and as a staff writer for Beechwood Music at 1650 Broadway. He performed as the opening act for such artists as Richie Havens, Eric Anderson, Van Morrison, Jefferson Airplane, among others. For more visit www.LEKalikow.com