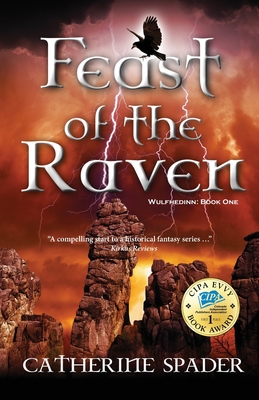 Feast of the Raven (Paperback)
Quillstone Press, 9780997153507, 256pp.
Publication Date: July 27, 2016
* Individual store prices may vary.
Description
Torn between ancient magic and the new Christian order In 782 AD, a beast prowls the forests of northern Germany. He is wulfhedinn, wolf demon-scourge of the Christian Franks. He is also Gerwulf, the man, a scorned outcast and bastard of a Christian woman and pagan father. Gerwulf emerges from the shadows to escape his demons and seek deliverance. To save his mortal soul, he battles for God, serving the legendary Charlemagne in a savage Holy War against the pagan Saxons. His journey leads to his greatest battle-reclaiming humanity in a dark age when beasts lurk inside all men. ...and the Raven Te Eater of Souls She soars above Hungering to feast on the bloodguilt of all...
About the Author
Catherine (Meier) Spader is a first-generation American raised on the history and lore of medieval Germany. At age 11, she saw the skull reliquary of Charlemagne and became enthralled with the era. Spader feeds her inner wulfhedinn by playing ice hockey and prowling wild forests and historic sites of Europe and the American West.
or
Not Currently Available for Direct Purchase