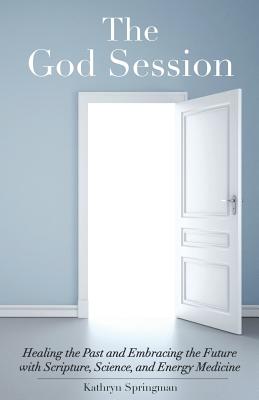 The God Session
Healing the Past and Embracing the Future with Scripture, Science, and Energy Medicine
Paperback

* Individual store prices may vary.
Description
Have you tried and tried to receive healing in a particular area of your life, yet no matter what the healing just has not come?
Do you feel as though there are obstacles at every turn?
Wouldn't it be nice to move beyond the obstacles and receive healing, not only for you, but for your family?
And even beyond now, to receive healing for future generations?
So many Christians today are struggling with health issues, even though Scripture plainly says, "Beloved, I pray that you may prosper in all things and be in health, just as your soul prospers" (3 John 2 NKJV). While it is evident that this is His plan for us, it is not always easy to attain it.
Bridge the Gap between Scripture and Energy Medicine for Whole HealthThe God Session combinesScripture and Biblical insightsThe latest science from researchers like Bruce Lipton, Rollin McRaty, Institute of Heartmath and othersNew explanations of energy medicineInsights into the subjects of DNA and EpigeneticsExplorations of various obstacles that block our way to whole health
Follow the techniques to help heal your wounds, clear your memories and traumas, release the emotional upheavals, and find new balance for your spirit, mind, will, emotions, soul, and body.
Free Bonus Materials Available
Kathryn Springman, 9780997188905, 176pp.
Publication Date: February 6, 2016
About the Author
Kathryn Springman loves all things creative! Her grandmother taught her to sew and taught her to use her imagination and use it well, always asking, "Can you imagine it this way or that? Can you imagine what something looks like in a different fabric or in a different color?" Her grandmother also encouraged her to look at the miraculous nature of life that surrounds all of us-in birdsong, in water flowing through a creek and the breeze in our hair. Her mother taught her a love of puzzles and the wonder of how pieces go together to make the full picture (even if we can't see it). Her father provided her with the opportunity to witness the greatness of a pioneer healer whose bedside manner both calms and reassures. Ms. Springman has over 30 years experience in prayer, intercession, and spiritual warfare. When a friend urged her to rethink and redefine health, this catapulted her into BodyTalk and alternative energy healing. As an Advanced Certified and PaRama BodyTalk Practitioner and BodyTalk Access Trainer, she has continued to develop and expand techniques and offers consultations and conducts seminars to other practitioners regarding her techniques. In addition to teaching the BodyTalk Access for laypeople, she is working on a series of seminars for teaching laypeople her techniques. Kathryn Springman brings new insights based on science and the ancient wisdom of God. Health is more than what we see in the body, and if we are struggling in the health of even one area of our lives-spiritually, mentally, emotionally, or physically-then on some level we are struggling with the health of all. Ms. Springman's approach to health is one that balances all those aspects of our being. Ms. Springman has a full time BodyTalk practice in Edmond, Oklahoma where she conducts both in person and distance healing sessions. You can find her at: Clinic website: www.okBodyTalk.com Author website: www.KathrynSpringman.com Facebook: www.FaceBook.com/kaspringman