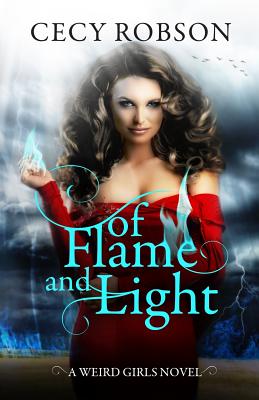 Of Flame and Light
A Weird Girls Novel
Paperback

* Individual store prices may vary.
Description
" This series is] on my auto-buy list." - USA Today
Taran Wird holds the unique ability to conjure fire and lightning. She is mated to Gemini, Second in Command to the Squaw Valley Pack of the Lake Tahoe Region, and the sole werewolf to possess the ability to split into two wolves. And although they are mates, Taran's insecurities have driven them apart.

Devastated by an injury that left her with a zombie-like limb, Taran struggles to regain command over her magic. But when her arm and her power turn against her, lashing out on those she most loves, she knows she can no longer carry this burden alone. Not that she likes the alternative.

The only way to regain control of her magic is to align and learn from the local coven of witches, the very ones who sought to banish her when she and her three unique sisters first moved to the mystical region. But although Taran is trying, the teachings don't come easy, and the tasks leave her weak and emotionally shattered.

Yet Taran must learn and learn fast. Time is running out. The fire she once mastered so easily has become her greatest adversary and is now slowly burning her alive . . .
Praise for the Weird Girls Series:
"So much action, so much violence and, oh, the lust radiating off of our heroes . . . I definitely recommend this series for lovers of all things paranormal and awesome."--USA Today

" With Cecy Robson's] edgy, witty and modern style of storytelling, the reader will be drawn deep into this quirky paranormal world. . . . Strong pacing, constant action and distinctive, appealing characters--including a gutsy heroine--will no doubt keep you invested."--RT Book Reviews

"A healthy dose of humor, a heaping dash of the supernatural, and a pinch of mystery all laced with a heavy dollop of action . . . Robson knows how to combine all the best ingredients to keep her readers hooked and begging for another hit."--Fresh Fiction
Cecy Robson, LLC, 9780997194753, 342pp.
Publication Date: October 18, 2016