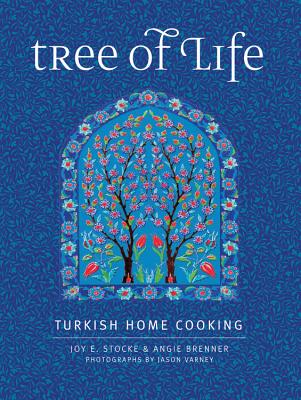 Tree of Life (Hardcover)
Turkish Home Cooking
Burgess Lea Press, 9780997211306, 256pp.
Publication Date: February 27, 2017
* Individual store prices may vary.
Description
Explore the refined flavors and seductive aromas of the Turkish table with Tree of Life. These are tastes that can't be found anywhere else on Earth.

When Joy Stocke and Angie Brenner first met on the balcony of a guesthouse in a small resort town on the Mediterranean coast, they discovered a shared love of history, literature, and local food traditions. The two new friends set off on a cultural adventure tour of Turkey that spanned ten years. Returning home to their respective American kitchens, they couldn't help but call upon the flavors of Anatolia as a kind of culinary souvenir, and incorporate that sensibility into the food they cook every day for themselves, family, and friends.

Based on the memoir Anatolian Days and Nights, Tree of Life presents more than 100 accessible recipes inspired by Turkish food traditions found in the authors' travels. These thoughtful adaptations of authentic dishes draw on readily available ingredients while featuring traditional techniques.

Just a small selection of recipes in Tree of Life include:
Circassian Chicken
Carrot Hummus with Toasted Fennel Seeds
Spice-Route Moussaka
Weeknight Lamb Manti
Stuffed Grape Leaves
Black Sea Hazelnut Baklava
Much more
About the Author
Joy E. Stocke, a career journalist, is co-founder and editor-in-chief of the online literary magazine Wild River Review. Her essay on Turkish-American food appears in the Oxford Encyclopedia of Food and Drink in America. She lives in Stockton, New Jersey.
Angie Brenner, a former independent bookseller specializing in travel, covers West Coast editorials for Wild River Review. She lives in Julian, California.
Praise For Tree of Life: Turkish Home Cooking…
"Turkish cuisine, long overlooked, comes to the fore in this lush and inviting cookbook. Packed with vibrant recipes, this book is laced with the aromas of the country's rich culinary history, offering something for everyone: chicken with walnut sauce, jeweled beet dip, dilled yogurt soup with chickpeas and rice, and rose milk pudding—you'll want to get cooking at once!"
—Maria Speck, food journalist and award-winning author of Simply Ancient Grains and Ancient Grains for Modern Meals

"The very freshest vegetables from your own garden or the farmer's market deserve a cookbook that honor nutritional vitality, as well as the hundreds of generations of great cooks who have refined Turkey's favorite recipes into a kaleidoscope of tastes, aromas, colors and textures. Stocke and Brenner celebrate the cuisine of a culinary-crossroads country in ways that are truly mouth-watering."
—Deborah Szekely, co-founder of Rancho La Puerta and founder of Golden Door Luxury Resort and Spa

"This finely vetted collection of Turkish recipes is not only an adventure in food, it serves as the basis for good, nutritious eating. Our small town loves to entertain and this cookbook is the new kitchen 'Bible.' What a way to live!"  
—Pat Straube, Owner of Orchard Hill Country Inn, Julian, California

"Every recipe has a story, an origin, a twist . . . I love Tree of Life. There is so much goodness here."—Beth Kephart, for The Philadelphia Inquirer
"The evocative descriptions of how the authors came across the recipes make for a romantic and inspiring read" 
"more than a hundred accessibly recipes here and plenty for both the novice and the more confident cook" 
- Tania O'Donnell, Qualityfoodanddrink.com
"This book is a wonderful mix of recipes, travel logs, sumptuous photography and much more."
- Choice magazine
"As practical as it's beautiful, this fine book should be on every kitchen bookshelf"
- Laurel Bibby, World Travel guide