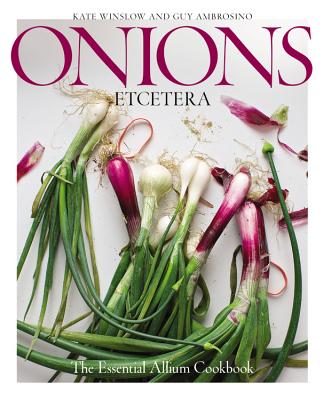 Onions Etcetera (Hardcover)
The Essential Allium Cookbook - more than 150 recipes for leeks, scallions, garlic, shallots, ramps, chives and every sort of onion
Burgess Lea Press, 9780997211313, 336pp.
Publication Date: February 14, 2017
* Individual store prices may vary.
Description
Onions Etcetera features more than 130 supermarket-friendly recipes, all from the indispensable allium family: leeks, chives, garlic, shallots, scallions, and every other type of onion!

"I don't believe there is a single recipe in this book I don't want to cook." - Nigella Lawson

Whether you delight in the hunt for scapes, your favorite heirloom cipollini, the spice of raw garlic, or the sweetness of caramelized onions, Onions Etcetera is right place for you.

This book is for all the Allium lovers out there; all of you out there who can't imagine cooking dinner without at least one onion in the mix. In Onions Etcetera you'll explore the wonderful versatility of the humble onion as you learn to coax out flavors familiar and unknown.

From classics and family favorites, to more obscure recipes, you'll find 130 onion-centric dishes, including:
Za'atar Onion Petals with Beets and Labneh
Pearl Onion Tarte Tatin
Appalachian Chimichurri
Curried Onion Fritters with Mint Raita
Grilled Delicata Squash with Shallot Agrodolce
Cheese and Allium Toasties
Eggplant Salad with Black Garlic Tahini Dressing
Scallion Sesame Pancakes
Grilled Fish with Charred Garlic Scape Relish
And that's just a start, fellow onion lovers. Grab your chefs knife, your favorite member of the Allium family, and 
Onions Etcetera
, of course, and
get cooking
!
About the Author
Kate Winslow, a former editor at Gourmet, is a writer, recipe developer, and food stylist. She is the co-author of Coming Home to Sicily with Fabrizia Lanza and Agricola Cookbook with Josh Thomsen.
Guy Ambrosino is a photographer whose work can be seen in many cookbooks, including Field & Feast, Coming Home to Sicily, The Maverick Cookbook, and Whatever Happened to Sunday Dinner? He works with natural light to create beautiful, thoughtfully composed images. 
Praise For Onions Etcetera: The Essential Allium Cookbook - more than 150 recipes for leeks, scallions, garlic, shallots, ramps, chives and every sort of onion…
(Onions Etcetera) is one of the best single-ingredient cookbooks I've encountered . . .Kate and Guy cover all the bases with this visually beautiful book with photographs being plentiful and enticing . . .This is one of those books that I will abuse with food spatters, sticky notes and love. I have mixed feelings about single-ingredient cookbooks - I either love them when they are done well and the collection of recipes are standouts - or I'm not fond of them due to the fact that the recipes are lacking luster. Onions Etcetera lacks nothing - it is stunning, full of deliciousness and written with a passion of not only onions, but good food.  
- Eat Your Books
Your friend who never says 'hold the onions' will love Kate Winslow and Guy Ambrosino's celebration of alliums.
- Better Homes and Gardens
Onions, as all of us who cook know, form the basis for innumerable recipes, but this book puts them centre stage, covering the whole allium family, and does so persuasively that I don't believe there is a single recipe in this book I don't want to cook.
 
- Nigella Lawson
While onions—in one form or another—are included in most of the dishes I cook, they're rarely the star. Enter Kate Winslow and Guy Ambrosino's new book, Onions Etcetera, a book devoted to the omnipresent alliums.
- Eat Better Drink Better
This is a beautifully written and illustrated book. . . If you haven't already done so, I encourage you to pick up this book, start cooking, and celebrate the ordinary heroes in your life!
- Patrizia Thomas
Sometimes a cookbook, even one 334 pages long, is very easy to describe. Onions Etcetera is magnificent, as perfect as a cookbook can be. . . You want supreme food and don't have time to visit Paris? Open the pages of Onion Etcetera and explore the world.
- Huffington Post
Even for the most avid collectors, a single-ingredient-focused cookbook can seem like an indulgent use of shelf space, but this set of recipes, with its globe-trekking span and playful, bold flavors, is both essential and varied enough to invite return exploration. 
- Philadelphia Inquirer
All of the recipes are creative and inspiring, and also super accessible for the home cook — pretty much the cookbook trifecta…
- Urban Kitchen Apothecary