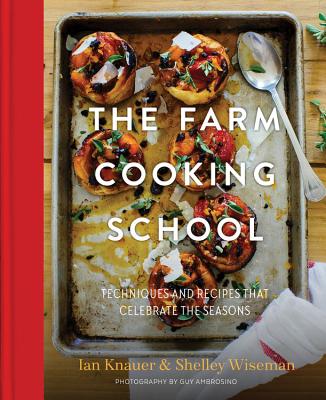 The Farm Cooking School
Techniques and Recipes That Celebrate The Seasons
Hardcover

* Individual store prices may vary.
Description
When you visit The Farm Cooking School you'll not only leave with a full stomach, but having learned something new.

The Farm Cooking School is packed with many of the same lessons you'd learn in person at the school, taught through more than 100 delicious recipes.

You'll learn how to make the flakiest pie crust for peerless summer pies, use fresh farm eggs for sweet, airy pavlova, and highlight what's growing now with scratch-made pizzas and pastas. Smoking, salt-roasting, pickling, and preserving are all part of the fun. Yet it's the way Ian and Shelley employ these techniques that make their classes, and this book, so much fun. Brine nasturtium buds for creative "capers", or try the hot-smoked oysters with a dollop of harissa butter and you'll agree!
 
The Farm Cooking School is a cookbook for anyone who wants to learn to cook in tune with nature. Celebrate the seasons as you grow comfortable with the practiced techniques of our forebears. Join us at the school!
Burgess Lea Press, 9780997211344, 256pp.
Publication Date: December 5, 2017
About the Author
Ian Knauer is the author of The Farm: Rustic Recipes for a Year of Incredible Food, and host of The Farm cooking show on PBS television. He honed his cooking skills in the world-renowned test kitchens of Gourmet magazine for almost a decade before returning to his family's farm in Pennsylvania. After a year of searching for the perfect location, he founded The Farm Cooking School as a space where cooks of all levels can come together to learn and enjoy great food and community. 
 
Shelley Wiseman is the author of two cookbooks, the latest being Just Tacos. For 12 years, she developed recipes at Gourmet magazine, where she was the Travel Food Editor. Shelley has cooked and taught cooking all over the world, including at her own cooking school in Mexico City. After a stint running the kitchens at Fine Cooking magazine, Shelley is back to doing what she truly loves at The Farm Cooking School.  
 
Guy Ambrosino is a photographer whose work can be seen in many cookbooks, including Field & Feast, Coming Home to Sicily, The Maverick Cookbook, and Whatever Happened to Sunday Dinner? He works with natural light to create beautiful, thoughtfully composed images.