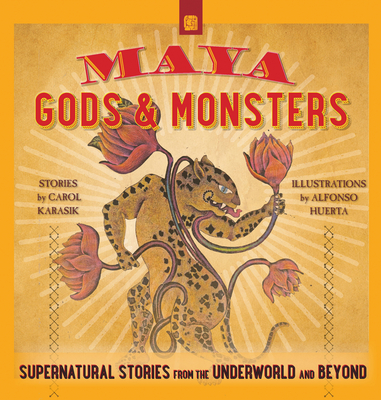 Maya Gods and Monsters (Paperback)
Supernatural Stories from the Underworld and Beyond
Thrums Books, 9780997216851, 128pp.
Publication Date: April 1, 2017
* Individual store prices may vary.
Description
Through captivating stories and lush illustrations, this book draws on ancient myth and lore of the Maya people and gives life to wild and quirky gods, magical monsters, and strange creatures. Fiery characters such as the Lords of the Underworld, Water Lily Jaguar, and the Horrible White Bone Centipede reveal Maya creation myths from centuries ago. Fifteen stories blend the natural and the supernatural into one alluring realm, reflecting the heart of the Maya people—one of the greatest civilizations in the New World.
About the Author
Carol Karasik is a writer and editor who has produced a number of books on modern and historic Maya culture. She is the author of The Drum Wars and Turquoise Trail and is the coauthor of Maya Threads. She lives in Washington D.C.
Praise For Maya Gods and Monsters: Supernatural Stories from the Underworld and Beyond…
"Carol Karasik has given a lively vision of the supernatural world of these remarkable people." —Michael D. Coe, Professor, Anthropology, Emeritus, Yale University
"Karasik manages to pass along both the substance and the magic in age-old tales. Bold, evocative illustrations by Alfonso Huerta match completely with the writer's poetic precision. A wonder and rich collaboration." —Carter Wilson, author, A Green Tree and a Dry Tree: A Novel of Chiapas and Crazy February: Death and Life in the Mayan Highlands of Mexico
"Thoroughly accessible to readers of all backgrounds, Maya Gods & Monsters has stories about the God of Death, a farmer and a buzzard who trade places, the uncontrollably destructive Serpent of Fire, and much more. A brief history of the Maya people, a glossary, a pronunciation guide, and an index round out this captivating collection." —James Cox, editor, Midwest Book Review