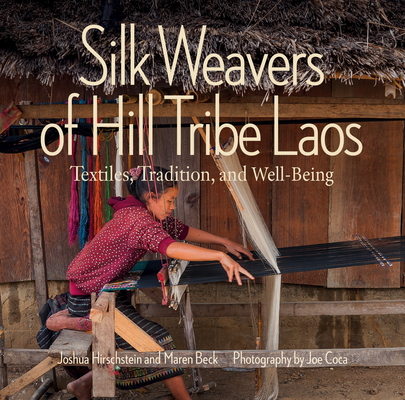 Silk Weavers of Hill Tribe Laos
Textiles, Tradition, and Well-Being
Paperback

* Individual store prices may vary.
Description
Winner, Gold Medal in the Travel Category, 2018 IBPA Benjamin Franklin Awards

Part travelogue, part silk-weaving primer, this is a tender portrait of an American family's travels in Laos's Houaphon Province. As they learn about the ancient silk weaving traditions in the hilltribe community of Xam Tai, they gain an appreciation for the strong sense of well-being in Lao culture. Over the past decade, Hirschstein and Beck have developed deep connections with the villagers of Xam Tai who raise their own fiber from silkworms, dye it using local natural dyes, and weave the patterns of their ancestors into healing cloths, ceremonial textiles, and daily wear.
Praise For Silk Weavers of Hill Tribe Laos: Textiles, Tradition, and Well-Being…
"A fresh and personal account of the authors' journey to the heart of Lao weaving. I especially enjoyed their mix of personal family stories and work with the weavers and appreciated their descriptions of village life, the weavers, and their love for their craft/art." —Carol Cassidy, author, Beyond Tradition: Lao Textiles Revisited; founder, Lao Textiles

"This personal memoir combined with closely observed primary interactions with the weavers and their lives is a very unusual approach to a traditional textile book. Technical details of spinning, dyeing, and weaving are masterfully recounted, and the photography, especially of the silks, is superb." —Gillian Green, author, award-winning Traditional Textiles of Cambodia

"The photography is excellent and relates directly to the text." —Dr. Susan Conway, Research Associate, Centre of Southeast Asian Studies, University of London

"I have only one problem with this fascinating book—it had to end! I felt so well acquainted with the weavers and the authors and the techniques that it seemed like the story should go on forever. Loving, honest, illuminating documentation." —Jaent De Boer, Editor, Australia's Textile Fibre Forum magazine

"How to best describe Silk Weavers of Hill Tribe Laos? A brilliant tome that will satisfy textile lovers, travelers, and anyone with an interest in southeast Asia." —Rebeca Schiller, Hand/Eye Magazine

"Thoroughly reader-friendly in organization and presentation. A truly exceptional study, Silk Weavers of Hill Tribe Laos will prove to be an enduringly popular addition to both community and academic library Needlecraft collections." —James Cox, Midwest Book Review

"Combined with the stunning photographs by Joe Coca, the couple's narrative is all show—captured in a spectacular manner by the images, enticing the reader to abandon that comfortable armchair, book a flight to Laos, and travel to Xam Tai." —Rebeca Schiller, Editor, Hand/Eye Magazine

"Perhaps the most compelling aspects of the book are the fifteen spotlights on residents of the region, plus many other briefer descriptions and beautiful close-up photographs of men and women working with textiles." —Susan Horton, Editor, Handwoven Magazine

"I loved this book. It skillfully weaves together threads about culture, place, weaving technique, economics, and the nature of a people living far from the nearest city. The whole thing is threaded with a story about one family's wish to travel to heal their own personal and cultural challenges" —Rebecca Mezoff, professional tapestry weaver, instructor, and author
Thrums Books, 9780997216899, 224pp.
Publication Date: October 1, 2017
About the Author
Joshua Hirschstein operates a private tutoring service and is the cofounder of Above the Fray: Traditional Hilltribe Art. Maren Beck teaches workshops on Lao and Vietnamese textiles throughout the Pacific Northwest and is the cofounder of Above the Fray. They live in Eugene, Oregon. Joe Coca is a diversified photographer with a special focus on handcrafted textiles and artisan goods. He lives in Fort Collins, Colorado.
or
Not Currently Available for Direct Purchase