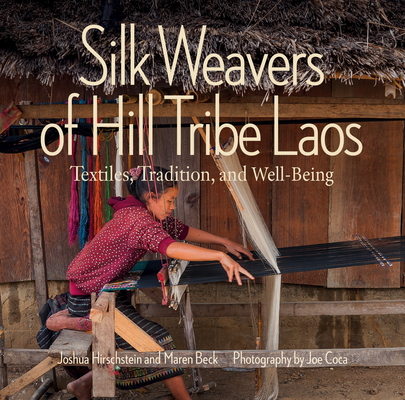 Silk Weavers of Hill Tribe Laos: Textiles, Tradition, and Well-Being (Paperback)
Textiles, Tradition, and Well-Being
Thrums, LLC, 9780997216899, 224pp.
Publication Date: October 1, 2017
Description
What began as a couple's backpacking adventure with their young sons in Southeast Asia transformed into a thriving fair trade business and a renewed sense of well-being. Part travelogue, part silk-weaving primer, Silk Weavers of Hill Tribe Laos is a tender portrait of an American family's travels in Laos's remote Houaphan Province. As they learn about the ancient silk weaving traditions in the hill tribe community of Xam Tai, so too they gain a profound appreciation for Lao culture and traditions.
Over the past decade, Joshua and Maren have developed deep connections with the villagers of Xam Tai who raise their own fiber from silkworms, create their own natural dyes, and weave the patterns of their ancestors into healing cloths, ceremonial textiles, and daily wear. Their narrative provides an in-depth and rare view into the everyday lives, culture, and craft of Lao silk weavers. Engaging personal stories and intimate photography bring it all into focus: the patience and skill of the artisans, the steady pace of village life, and a commitment to honoring the old ways.
About the Author
Joshua Hirschstein operates a private tutoring service and is the cofounder of Above the Fray: Traditional Hilltribe Art. Maren Beck teaches workshops on Lao and Vietnamese textiles throughout the Pacific Northwest and is the cofounder of Above the Fray. They live in Eugene, Oregon. Joe Coca is a diversified photographer with a special focus on handcrafted textiles and artisan goods. He lives in Fort Collins, Colorado.
Praise For Silk Weavers of Hill Tribe Laos: Textiles, Tradition, and Well-Being…
"Silk Weavers of Hill Tribe Laos is a fresh and personal account of the authors' journey to the heart of Lao weaving. I especially enjoyed their mix of personal family stories and work with the weavers and appreciated their descriptions of village life, the weavers, and their love for their craft/art. Xam Tai is a magical place where rich Lao weaving traditions come alive, born from the imagination of highly skilled weavers and handcrafted with centuries of inherited knowledge. As the world rapidly changes, this book captures a vital moment in time of the independent traditional silk weavers and weaving culture of Laos and Xam Tai."
Carol Cassidy, author of Beyond Tradition: Lao Textiles Revisited and founder of Lao Textiles
"This personal memoir combined with closely observed primary interactions with the weavers and their lives is a very unusual approach to a traditional textile book. I enjoyed getting to know personal histories of the weavers and how they operated. Technical details of spinning, dyeing, and weaving are masterfully recounted, and the photography, especially of the silks, is superb."
Gillian Green, author of the award-winning Traditional Textiles of Cambodia
"The photography is excellent and relates directly to the text. We enter the village with the aid of photographs of the houses and people and move on to see women working at their looms. We witness Lao cuisine in photographs of food laid out in small dishes, the authors looking on appreciatively. The chapters on sericulture, cotton production, and dyeing yarn are also well illustrated."
Dr. Susan Conway, Research Associate at the Centre of Southeast Asian Studies, University of London
"I have only one problem with this fascinating book—it had to end! I felt so well acquainted with the weavers and the authors and the techniques that it seemed like the story should go on forever. Loving, honest, illuminating documentation is how I would characterize the text, augmented by Joe Coca's superb photography."
Janet De Boer, editor of Australia's Textile Fibre Forum magazine for 30 years
Advertisement