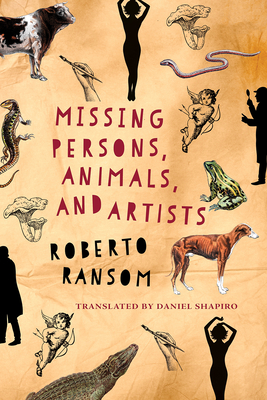 Missing Persons, Animals, and Artists
Paperback

* Individual store prices may vary.
Description
Elegant prose and imaginative ironies bring these compelling short stories to life in this first English-language collection from Mexican author Roberto Ransom. Each of the ten stories is filled with fascinating, yet enigmatic and sometimes elusive characters: an alligator in a bathtub, an invisible toad who appears only to a young boy, the beautiful redheaded daughter of a mushroom collector, a deceased journalist who communicates in code, and even Leonardo Da Vinci himself, meditating on The Last Supper. One of Mexico's most original writers, Ransom explores these characters' emotional depths as they move through their fantastical worlds that, while at times unfamiliar, offer brave and profound insights into our own.
           
Missing Persons, Animals, and Artists is the follow-up to Ransom's highly acclaimed A Tale of Two Lions, praised by Ignacio Padilla as "the best Mexican literary work I have read in recent years. . . . [It] heralds a pen capable of that rarest of privileges in our letters: attaining the comic and profoundly human through a perfect simplicity."  This collection of short stories has been translated with great care by Daniel Shapiro.
 
Praise For Missing Persons, Animals, and Artists…
 "Who could foresee a series of nuanced and unsettling tales about memory, art, betrayal, and divinity from a volume that begins with a housebound Godzilla? In Daniel Shapiro's superb translation . . . the stories set free at least as many wonders as they define."
— World Literature Today

" An almost understated calm leads readers into the ten stories in Missing Persons, Animals, and Artists—some remain placid, and others reveal an unsettling and often dark depth. . . .  A fine, and finely wrought, collection."
— Complete Review

"Shapiro has accomplished a very difficult task: he has created a clear, pellucid language in English for Ransom's stories, which are dark and tortuous. The contrast is devastating. The same tension between substance and style exists in Spanish, and Shapiro has been able to duplicate that with finesse, sophistication, and an excellent ear. His translations are a gift to English-speaking readers."
— Edith Grossman, translator of Don Quixote by Miguel de Cervantes and Love in the Time of Cholera by Gabriel García Márquez

"Roberto Ransom's collection of short stories, Missing Persons, Animals, and Artists, is a trip to fear, to the uncanny, to the limit where we give up our defenses and just relate."
— Álvaro Enrigue, award winning novelist and short story writer

"In one of the stories in this surreal collection, an artist is unable to paint some figures in his composition because he's waiting for the right color to inspire him. The painting's patron doesn't understand the delay:  Shouldn't it be easy to paint some figures? Thus Roberto Ransom suggests with clarity and elegance that form is the subject of art. Daniel Shapiro's translation perfectly captures all the nuances of these strange and seductive stories."
 
— Edmundo Paz Soldán, professor of Spanish literature at Cornell University
Swan Isle Press, 9780997228717, 180pp.
Publication Date: January 15, 2018
About the Author
Daniel Shapiro is a retired attorney specializing in art and cultural property law. He lives in New York.
or
Not Currently Available for Direct Purchase