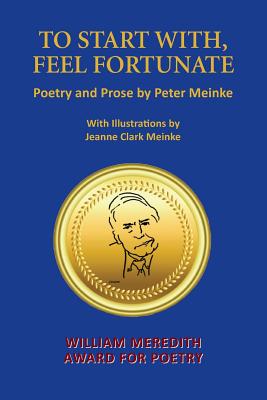 To Start With, Feel Fortunate (Paperback)
Poets Choice Publishing, 9780997262940, 384pp.
Publication Date: March 1, 2017
* Individual store prices may vary.
Description

To Begin With, Feel Fortunate was written in part in the chaotic year
running up to the election of the new president and is a passionate
analysis of how we got to where we are as a nation, and what may be
in store for us. As Peter has said in an interview, "You have to remember
that even the poets who live in garrets are citizens, and I
urge them to use their voices and partake in the actual goings-on of
our country." Like William Meredith, who was a good friend in the
old days, Meinke's work is not written from the ivory tower. Like
Meredith, he feels writers and intellectuals have an obligation to
speak the truth and shame the devil. And if poetry and prose are to
be useful in our lives, they must first of all be honest or otherwise
risk being merely window dressing in a fancy American living room.
Critics have argued that poetry fails to the exact extent it attempts
to be didactic. And though he is a teacher and has lived to see much
change in this country, Meinke's work does not attempt to preach.
It's the voice of a really nice guy you'd like to have a beer with at the
local pub to hash out whatever you have on your mind: the world series,
the future of the stock market, the state of the union. He would
never consider his fellow citizens "deplorable" and admires the hardworking,
middle-class as well as poets who celebrate their life, like
Philip Levine and yes, Bob Dylan.