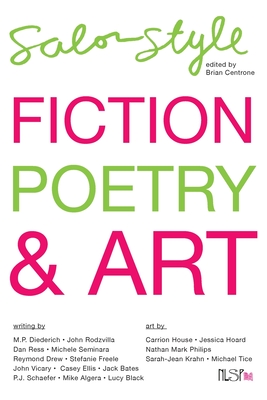 Salon Style
Fiction, Poetry and Art
Paperback

* Individual store prices may vary.
Description
Salon Style is a collection of writers, poets, and artists with unique voices and incredible vision in diverse genres such as Gothic/Horror, Sci-Fi, Women's Lit, and Americana. Salon Style features stories by emerging writers M.P. Diederich (Startling Sci-Fi: New Tales of the Beyond), Dan Ress, Casey Ellis (Startling Sci-Fi: New Tales of the Beyond), Jack Bates, Lucy Black, and established writers John Rodzvilla, John Vicary, Stefanie Freele, and P.J. Schaefer (Behind the Yellow Wallpaper: New Tales of Madness). It includes works by notable poets Michele Seminara, Reymond Drew, and Mike Algera. Salon Style also features art by NLSP veterans Nathan Mark Phillips (Southern Gothic: New Tales of the South) and Michael Tice (Retrospective). Illustrations by Carrion House, photography by Jessica Hoard, and drawings by Sarah-Jean Krahn complete this varied collection.
New Lit Salon Press, LLC, 9780997264913, 162pp.
Publication Date: November 26, 2016