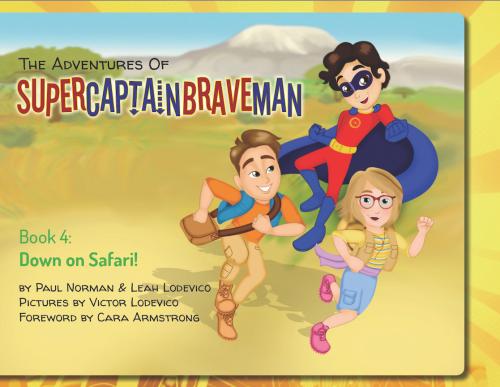 The Adventures of SuperCaptainBraveMan, Book 4
Down on Safari!
Hardcover

* Individual store prices may vary.
Description
Kyle is a boy like any other boy his age, only he has a rare condition that hinders his day-to-day physical abilities. It is when Kyle dreams that he transforms into his alter ego, SuperCaptainBraveMan!

SuperCaptainBraveMan is a friend to all kids, helping them discover their own courage and strength to overcome daily challenges.

In Book 4: Down on Safari!, SuperCaptainBraveMan helps a girl with Down Syndrome find her brother.
SuperCaptainBraveMan LLC, 9780997316292, 64pp.
Publication Date: October 1, 2019
About the Author
About Leah Lodevico
Leah Lodevico is a Licensed Vocational Nurse and author. A native Angeleno, she received her nursing license in 2009 but debated which facet of healthcare appealed to her most. With her sense of adventure and fun-loving personality, pediatrics seemed a perfect fit.

In 2011, Leah became a mother for the first time. Her beautiful daughter Remy instantly became the light of her life. Leah is now raising Remy in the same house she where she grew up. Together, they read and sing most afternoons while Leah works on one of the many half-finished craft projects around their living room.

When Leah decided to return to work in 2015, she was assigned to Kyle's case and soon became part of the family. She and Kyle share love for everything Star Wars and Marvel Universe, and they enjoy building massive LEGO sets together.

An avid and voracious reader, Leah is also game for all kinds of DIY projects and chances to learn. This willingness to throw herself into new experiences led her to passions for knitting, cross stitch, sewing, and a brief but intense week of nail art.

In 2018, Victor Lodevico, the illustrator of SuperCaptainBraveMan and Leah's brother, approached her to write for the eBook series, A Kyle Adventure, and she's been writing for SuperCaptainBraveMan ever since.


Born and raised in Bronx, NY to a Puerto Rican mom and an African American dad, Paul was instilled with values of diversity appreciation, education and self-reliance from an early age. Paul accelerated in his studies, graduating from high school at the age of sixteen then obtaining a degree in Visual & Media Arts from Emerson College.

About Paul Norman
Paul Norman moved from New York to Los Angeles to embark on a successful career as a First Assistant Director. His first wife gave birth to a healthy daughter, Honour, who he loves more than life itself.

After his second child, Kyle, was diagnosed with a rare, incurable genetic disorder, Paul refused to accept that his son would not survive. He fought battle after battle, advocating for Kyle's care, seeking medical expertise wherever it could be found, committing himself to Kyle's recovery.

Paul conceived the idea for a SuperCaptainBraveMan book upon being inspired by Kyle's nurse, Victor, who would often sketch pictures of Kyle as a happy, healthy, active boy. Truly, that was how those close to Kyle often envisioned him.

In his spare time, Paul enjoys golfing, fitness, watching sports and drinking red wine.
or
Not Currently Available for Direct Purchase