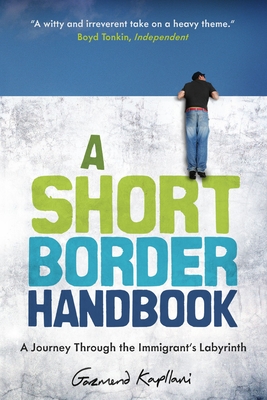 A Short Border Handbook (Paperback)
A Journey Through the Immigrant's Labyrinth
New Europe Books, 9780997316988, 144pp.
Publication Date: October 3, 2017
* Individual store prices may vary.
Description
An exhilarating and darkly comical exploration of migration and borders from an Albanian who grew up in Hoxha's madhouse, longing to cross to Greece, only to find another seam of absurdities and disappointments on his eventual arrival.

After spending his childhood in Albania, and fantasizing about life across the border, Gazmend Kapllani escapes to Greece--only to get banged up in a detention center. As he and his fellow immigrants try to find jobs, they begin to plan their future lives in Greece, imagining success that is always beyond their grasp. The sheer absurdity of both their plans and their new lives is overwhelming. Both ironic and emotional, Kapllani interweaves the story of his experience with meditations upon "border syndrome"--a mental state, as much as a geographical experience--to create a brilliantly observed, amusing, and perceptive debut. And a timely one at that, given that immigration is again at the forefront of politics both in the US and Europe.
About the Author
Gazmend Kapllani, the author of three books, teaches creative writing and European history at Emerson College and was previously a fellow at Harvard University's Radcliffe Institute. Born in 1967 in Albania, he crossed the mountainous border into Greece on foot in 1991. In Greece he worked as a builder, a cook, and a kiosk attendant while earning a doctorate at Athens University. For more than twenty years he was a columnist for the leading daily Ta Nea. A Short Border Handbook, inspired by his own experience as an immigrant and written in Greek, was a best-seller in Greece and translated into several languages; Kapllani's other books include the novels My Name is Europe (2010, Greece; 2013, France) and The Last Page (2012, Greece).
Praise For A Short Border Handbook: A Journey Through the Immigrant's Labyrinth…
"Kapllani treats the absurdities of nationalism in the Balkans - and everywhere - with mischief, wit and insight" -- Boyd Tonkin, Independent (UK)

"A telling reminder of how the borders that many of us are lucky enough to regard as bureaucratic inconvenience often form unimpeachable barriers and of how the way they are policed can be ruthless and absurd." -- Laurence Mackin, Irish Times

"Thought-provoking and blackly comic stuff in what it means to be an immigrant." -- Bookseller

"A brilliant, wry and playful memoir about migration. Kapllani tells it as it's never been told before." -- Lisa Appignanesi

"As a student of borders, I was fascinated and impressed by A Short Border Handbook. It is an autobiographical meditation by a wise Albanian of what it means to be an immigrant at a time when this has become such an important part of our world, causing heart-wrenching problems for so many. With great insight, through his personal story, Gazmend Kapllani has enabled us far better to understand and enter into this overwhelming problem of our times." -- Peter Stansky, author of Edward Upward and Professor of History, Emeritus, Stanford University


"An emotional but also often darkly comical account of what ... immigrants experienced after the fall of the Soviet Bloc and what immigrants all over the world continue to endure.... A timeless must-read ... [that] gives readers in-depth insight of the global and human issue of people escaping oppressive regimes to seek a tolerable life for themselves and their families." -- underratedreads.com