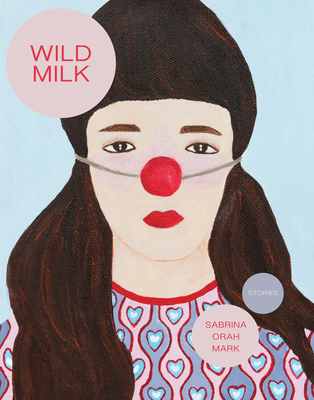 Wild Milk
Paperback

* Individual store prices may vary.
Description
A genre-expanding collection of stories that Publishers Weekly calls "perplexingly captivating" and "astonishing."

Wild Milk is like Borscht Belt meets Leonora Carrington; it's like Donald Barthelme meets Pony Head; it's like the Brothers Grimm meet Beckett in his swim trunks at the beach. In other words, this remarkable collection of stories is unlike anything else you've read.
Praise For Wild Milk…
"The stories drift in the way of the best fairy tales—released from dependence on narrative sensibility to become both more odd and more true than any mere fiction . . . Stories in which laughter is sometimes the only response to sorrow, beauty is strange, and love is fierce and unending. A necessary book for our perilous age." —Kirkus Reviews, starred review

"Totally spellbinding and mesmerizing." —Boston Globe

"Mark's collection is perplexingly captivating; she applies a poet's playful sensibilities to the fiction form and creates something astonishing and new." —Publishers Weekly

"This aptly titled short-story collection is indeed a wild treat. . . . Enfolding love and fear, paranoia and desire, these deliriously irrational stories manage to make perfect sense." Dawn Raffel, Oprah.com

"Sabrina Orah Mark's Wild Milk reinvents the fairy tale in a way I didn't know could still be done. Her craft feels generous, fluid, inventive: she bends myths and archetypes like balloon animals. And yet for all that sense of play, what she reveals is not lightness but wildness. There is something elemental in her stories, as complicated and tangled as the roots of any ancient tree." —Nadja Spiegelman, The Paris Review Staff's Favorite Books of 2018

"Dorothy, a publishing project, which is committed to 'works of fiction or near fiction or about fiction, mostly by women,' has, for nearly 10 years, proven an ally to genre-bending writing. Mark's book is on a par with the best work they've put out, such as Leonora Carrington's The Complete Stories and Jen George's The Babysitter at Rest." —The Millions

"Mark's work crystallizes how the absurd is not only a reasonable response to our untenable now, but displays how the silliest-seeming of responses can harbor the most succinct of critiques. Alongside its lavish sparseness and knife-fight speed, these stories are also surprisingly funny. We may have heard of writing as protest, but here is writing as riot." —Rachel Hill, Rain Taxi

"Wild Milk is equal parts setup and punchline, a brilliant logic of surreal, layered humor that skips its way towards deeply felt truths. Author Sabrina Orah Mark, who has previously written two books of poetry, offers us short stories that blend fairytale, Who's-on-First-style drollery, and current cultural moment to deliver back a clearer version of our own warped reality." —The Arkansas International

"Sabrina Orah Mark is a writer of strangeness & tenderness & undeniable brilliance. I wanted to read this book aloud to everyone I've ever loved, & to fold it into a locket to keep close to my heart." —Elizabeth McCracken

"Essentially, this is a book about mothering. Existentially, this is a book about anxiety. Everything herein is a child—teeth, presidents, prayers, apricots, seahorses, jokes, snails. . . . Calling these stories doesn't seem quite right—each comes alive in your hands, not like a child but like its cry." —Nick Flynn

"Maybe this is a collage of spells arranged by Andy Kaufman to conjure a strange forest into being, or a contemporary interpretation of Dada's joyous weirdness, or just a reincarnation of one of James Tate's later poems run amok. Whatever it is, Wild Milk is strange, unsettling, funny and brilliant collection that manages to be both profoundly weird and mundanely thoughtful at the same time." —Josh Cook, bookseller at Porter Square Books

"Mark is obviously a talent in the vein of Leonora Carrington, maintaining the strange dreamlike atmosphere of her fiction without losing its sense of substance, using skillfully interwoven images that create tight seams between each story." —The Paris Review Daily

"Presidents, professors, a lover called Poems, and a family parakeet called Bye Bye Francoise: these are only several of the many memorable characters we get to meet inside Sabrina Orah Mark's wondrous short story collection Wild Milk. These glorious, distilled, funny, and sometimes devastating stories engage with the past, our present, politics, trauma, terror, and love. At the same time, they offer a stunning and close-up portrait of an American family." —Will Walton, author and bookseller at Avid Bookshop

"Is this prose or poetry—what difference does it make, as long as it's good writing? And the stories in Wild Milk are good writing." —Literary Matters

"Marks's use of Jewish culture and contemporary fairy tales combine into stories that challenge both discourses. By defying the cultural boundaries of American fairy tales, Mark gives us a collection that casts both mainstream and minority cultures in a new, wild light." —Jewish Book Council
Dorothy, a publishing project, 9780997366686, 168pp.
Publication Date: October 1, 2018
About the Author
Sabrina Orah Mark has received fellowships from the Fine Arts Work Center in Provincetown, the Glenn Schaeffer Foundation, and The National Endowment for the Arts. She is the author of Wild Milk (Dorothy, a publishing project, 2018) as well as the poetry collections Tsim Tsum and The Babies, both from Saturnalia Books. Her poetry has appeared in many journals and in the anthologies Legitimate Dangers: American Poets of the New Century and The Best American Poetry 2007.