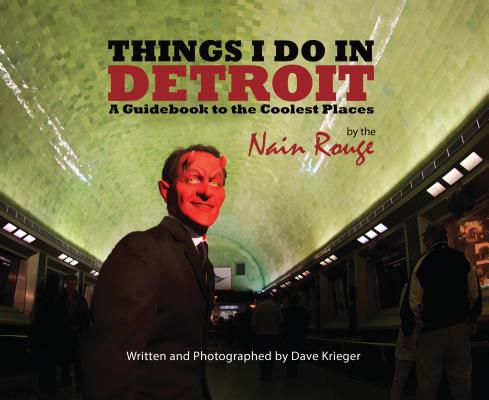 Things I Do in Detroit (Paperback)
A Guide Book to the Coolest Places by the Nain Rouge
Kmw Studio, 9780997391602, 304pp.
Publication Date: January 17, 2017
* Individual store prices may vary.
Description
- Detroit's fabled gnome, the Nain Rouge, shares his favorite locations in this visually rich guide book of amazing things to see and do in Detroit- An alternative guidebook that will appeal to photography and popular culture book buyers and collectors, historians, celebrity seekers, and fantasy enthusiastsThe Nain Rouge, French for "red dwarf," is a fabled gnome that has lived in Detroit before it was settled by Cadillac in 1701. For over 300 years the Nain Rouge is reported to appear during various historical events throughout the city. Originally seen as a malevolent character in the folklore of Detroit, the Nain Rouge is actually the consummate outsider, blamed for any and all disasters in Detroit's history while being ignored for his positive contributions to the richness and development of the city. Activities change dramatically over the centuries and every generation brings a new excitement to Detroit. With the influx of new energy, the time has come for the Nain Rouge to reclaim his standing as Detroit's honorary grand citizen, contributor, booster and as the oldest resident historian of the city. Never to have sought credit for his contributions before, the Nain Rouge reveals himself to the public for the first time in this visually rich guide book of amazing thinks to see and do in Detroit today.
About the Author
A Detroit native, Dave Krieger has been a photographer, director, and film producer in Paris, LA, NYC and Detroit for over 30 years. His photography work is in the collection of the Detroit Institute of Arts. He has been recognized for his work in the New York Times Magazine and Detour Magazine among other publications and he created the iconic styling of the web based magazine, Model D. His photography credits include publications such as Rolling Stone, Marie Claire, Mademoiselle, Harper's Bazaar, Hour Detroit and many others. He has directed videos for Dark Red, Amy Gore and her Valentines and The Blackman with Thornetta Davis. Film credits include, Cash Only, Fractured, The Ides of March and This Must be the Place. His website is www.kriegerphoto.com.