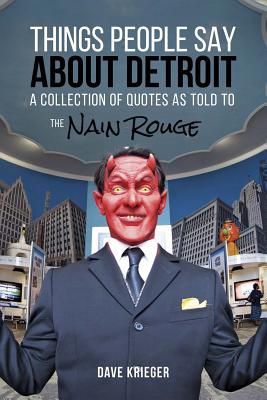 Things People Say about Detroit (Paperback)
A Collection of Quotes as Told to the Nain Rouge
Kmw Studio, 9780997391664, 264pp.
Publication Date: June 11, 2018
* Individual store prices may vary.
Description
-Detroit's fabled gnome, the Nain Rouge, shares his favorite quotes about Detroit as told to him by celebrities and noted historical figures -Alternative history book For over 300 years the Nain Rouge has lived in Detroit. Considered by many to be a malevolent folk character, for years tales have been spun by those who sought to damage his good nature. Having been blamed for anything detrimental that happened to Detroit throughout its history, by those whose motives are nefarious at best, the Nain Rouge has only started to reclaim his stature as a protagonist for Detroit. Over the centuries, he has collected quotes from some of Detroit's finest and some not so fine. This collection of quotes tells the story of Detroit through the voices of its own, reliving earlier times and commenting on the Detroit of today. Through the awareness of these opinions, and remarks, the story of Detroit, its history, its ingenuity, and its contributions to the world are better understood and appreciated. To understand more about Detroit and the Nain Rouge, be sure to pick up the Nain Rouge's first book, Things I do in Detroit, a Guide to Detroit's Coolest Places ISBN 9780997391602.
About the Author
A Detroit native, Dave Krieger has been a photographer, director, and film producer in Paris, Los Angeles, New York and Detroit for over 30 years. His photography work is in the collection of the Detroit Institute of Arts. He has been recognised for his work in the New York Times Magazine and Detour magazine among other publications and he created the iconic styling of the web-based magazine, Model D. His photography credits include publications such as Rolling Stone, Marie Claire, Mademoiselle, Harper's Bazaar, Hour Detroit and many others. He has worked with such notables as Annie Leibovitz, Bruce Weber, David Seidner, Ross Bleckner, Felix Gonzalez-Torres and Deborah Turbeville, and Kelly Klein. He has directed videos for Dark Red, Amy Gore and her Valentines and The Blackman with Thornetta Davis. Film credits include Cash Only, Fractured, The Ides of March and This Must be the Place.