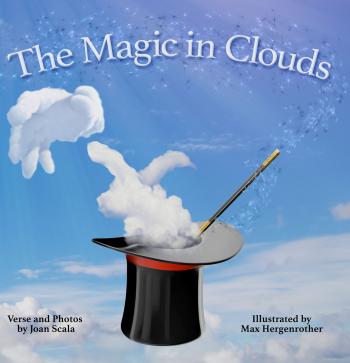 The Magic in Clouds
Hardcover

* Individual store prices may vary.
Description
Have you seen what the magic clouds can do? The Magic in Clouds is a fresh and unique new addition to children's books. The book utilizes actual untouched photos of clouds that have morphed and formed into a myriad of recognizable shapes in combination with whimsical illustrations and engaging, lyrical verse. "Magic" is intended to fire children's imagination by opening their minds to the limitless possibilities nature, here in the form of clouds, can provide. The Magic in Clouds transports the reader to a seemingly endless variety of locales in search of new magic being created by the clouds. From a city block to the North Pole to the jungles of Africa, see if you can discover what the clouds have formed in the sky as you let your imagination soar among and with the clouds. The child can take the book outside to uncover new magic and continue to play it with family, friends, or by themselves, anywhere clouds are found gathering. The fun is in the discovery and the creativity each reader brings to the experience. It is simply magical!
Praise For The Magic in Clouds…
"This was the first book we've read from Joan Scala, but we sure hope it won't be the last! We absolutely loved it! My children and I really enjoyed Ms. Scala's story telling abilities and the style of writing she uses -- the distinctive "voice" that is so fun and children can easily relate to and enjoy. It is so simple and easy to read, but each sentence and page packs so much energy and imagery that you really get a bang for your buck. 'The Magic in Clouds' is a fun, fast read that is sure to delight! An entertaining and informative picture book that we'll be sure to read again and again. Recommend for ages 3-8 and great addition to have in any home library." (5 stars) - - Karen Matthews, Indie Books

"I gave this book a well-deserved 5 stars! Joan Scala has written
a fantastically inspiring and creative book that is aimed at the young readers, and they will love sinking their teeth into this one! It stands out to me in terms of originality. Ms. Scala has her own unique voice and writing style that makes it feel fresh and exciting. The story glides from scene to scene effortlessly, and the author shows exceptional ability when it comes to writing for younger readers." (5 stars) Laura Clarke-Goodreads, Indie Book Reviewers

"Perfect blend of fun, creativity, and nature. Nearly flawless editing and a solid visual delight! This book by Joan Scala delivers on all accounts in an impressive way. Very creative, charming, and great voice and narrative flow. We enjoyed the gorgeous pictures and illustrations, and thought the whole story and its themes were just wonderful. A great read, and will be looking for the next one from Ms. Scala." (4-5 stars) April Dawn—Indie Book Reviewers, Goodreads

Cloud Enterprises Publishing, 9780997424607, 31pp.
Publication Date: May 15, 2016
About the Author
Joan Scala is a nature (and cloud) enthusiast and award winning photographer. She is passionate about igniting the imagination of children in order to open their minds to all of the possibilities nature can provide. Joan especially enjoys introducing young minds to the endless adventures the world can present by looking beyond the obvious and engaging the creative parts of children's minds. She feels with imagination, anything is possible.

"My intent is to engage children in an outside activity that fires their imagination. By utilizing actual photos taken of what one can see in clouds, my hope is to motivate children to think "outside the box" at a very early age and open their minds to the endless possibilities that exist in nature. Through searching for the "magic" in clouds, I hope children may also realize that there are unlimited opportunities that life itself can offer to them. They just need to look, imagine and believe."

Having been captivated by cloud formations at an early age, Joan continues to search the skies for new shapes and forms just waiting to be discovered. The beauty is that this game can be played anywhere clouds form and can be enjoyed alone or with friends. "I find it great fun to be outside playing a game that challenges the individual to see things in their mind's eye that exist in the real world but that often requires a bit of imagination to uncover those familiar objects in the clouds… It simply is magical!"

The Magic in Clouds is first in a series of children's books to be created by Joan Scala. In addition to the second in this series, Joan has numerous additional projects underway.

Max Hergenrother is a New York based artist who received his MFA from School of Visual Arts in 2005; since then he has been working as a professional Illustrator represented by The July Group. He is also an Associate Adjunct Professor at St. John's University and is the owner of CTIArt art school in Glen Cove, NY. Max has works in children's literature, book jacket design, web design, dvd authoring, multimedia design, as well as trade books and advertising. Max's illustration and fine art have appeared in Annova Books, Batsford Publishing, Farrar, Straus and Giroux, Kappa Publishing, Macmillan, Reed Business, Nassau County Museum of Art, NetConnect Magazine, New York Times, Newsday, Penguin Books, Wading River Books, Sleeping Dog Studios, and others.

Max's work can be viewed at maxinkart.com, thejulygroup.com and ctiart.com
or
Not Currently Available for Direct Purchase