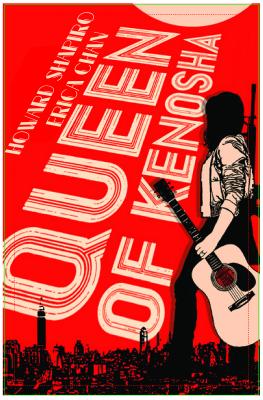 Queen of Kenosha
Paperback

* Individual store prices may vary.
Description
A coming of age tale, this is the first installment of the Thin Thinline Trilogy, the fiercely independent Nina Overstreet has an axe to grind. A talented singer-songwriter slogging her way through the burgeoning Greenwich Village folk music scene of 1963, the Queen of Kenosha, Wisconsin, realizes that standing on the cusp of stardom gets her little respect and barely a cup of coffee in New York City. It finally comes, but in a way she could have never imagined. A chance encounter with the mysterious Nick Ladd at a late-night gig spins her life in a different direction--one that becomes a daily balance between life and death, right and wrong. Nick recruits Nina to join him and a team of ex-FBI operatives in a clandestine agency to stop the establishment of the Fourth Reich by undercover Nazis in post-War America. It's a cause Nina believes in ... until she's forced to compromise the very principles of fairness and patriotism she holds dear. As she and Nick grow closer as partners, she forces him to question his own intentions. But as the body count mounts in pursuit of the Nazi ringleader, the evasive Alex, the stakes grow even higher for Nick and Nina.
Animal Media Group LLC, 9780997431520, 160pp.
Publication Date: October 9, 2018
About the Author
Howard Shapiro has written four children's books, three graphic novels and a biography. He lives in Pittsburgh, PA where he runs the day-to-day publishing side of Animal Media Group LLC bringing ten years of indie publishing experience to the role. Erica Chan is a freelance illustrator based in Brooklyn and an alumni of the MFA Illustration as Visual Essay program at the School of Visual Arts. She's currently working on several comics projects including one for Amazon Publishing.
or
Not Currently Available for Direct Purchase